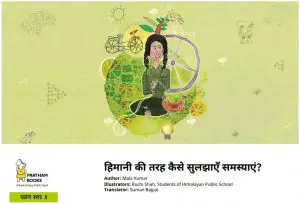 हिमानी की तरह कैसे सुलझाएँ समस्याएं? – How to Solve a Problem Like Himani Hindi – This story is about Himani a girl living on a snowy mountain of the Himalaya's and how she and her classmates where able to address and improve the living conditions they face on the icy mountain. Water was brought from down the streams and must be carried in a bucket from a water pump or the stream down below. There were no lights on the pathways and it makes traversing the mountain trail dangerous at night. These are few of the issues they are experiencing and with the step they had learned they were able to address these issues accordingly.
Author: Mala Kumar, Illustrators: Ruchi Shah, Students of Himalayan Public School
Text and Images from हिमानी की तरह कैसे सुलझाएँ समस्याएं?
२८ माच
गम इतनी पड़ रही हैक बुरा हाल हो रहा ह! उस पर सेआज गोलूको बत ही शरारत सूझ रही थी। वह एक ढलान पर चढ़ गई और अब नीचेआनेको तैयार ही नह* थी बु, बकरी! उसेनीचेलानेम-सीमा और ग. लूको मेरी मदद करनी पड़ी।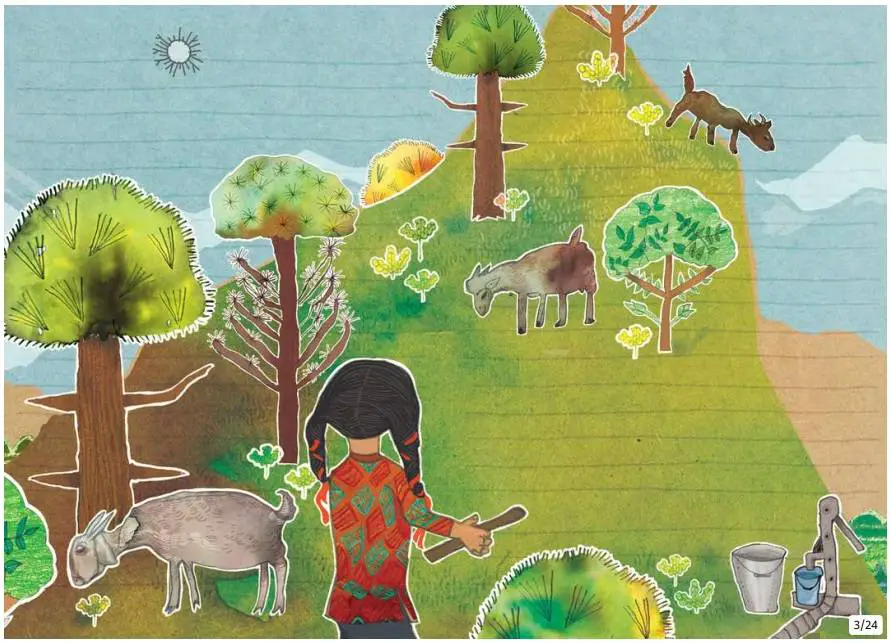 ३० माच
मुझेबफ सेढँक हमालय क चोटयाँ4दखाई देरही ह-नंदाकोट, मै;ोली, पंचाचूली, चौख=बा-
सारी चोटयाँ। पर क
माऊँएकदम सूखा है। ग.लूऔर मसड़क पर लगेपंप या र बहतेझरनेसे पानी लानेम-ईजा और बौयू * क सहायता करतेह। काश! बफBली चोटय सेपानी सीधेहम तक पँच पाता। जनवरी म-जब बफ पड़ती है, तब भी पीनेका पानी बत मुFकल सेHमल पाता है। *ईजा और बौयू: कुमाऊँनी भाषा म-इन शKद का योग 'माँ' और 'पता' के लए होता है।
<end of sample>
Read the full book  by selecting one of the buttons below the post.
हिमानी की तरह कैसे सुलझाएँ समस्याएं? English version below:
Read the English version using the above link.
See more Hindi stories below
v