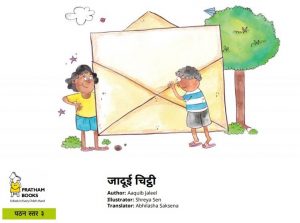 जादूई चिट्ठी – The Magic Letter Hindi – Ijas and Vikram are best friends, they were neighbors once in Haryana before but Vikram moved away to live in Andrha Pradesh. They remain best friends considering the distance. They write letters and both are happy exchanging letters. The letters consist of puzzles from Vikram but  Ijas has received a magic letter from Vikram. What does the letter contain find out in this fun and solving story about friendship.
Author: Aaquib Jaleel, Illustrator: Shreya Sen
Text and Images from जादूई चिट्ठी
एजाज़ ह रयाणा मऔर व म आं देश मरहता है। एक-सरेसेब त र रहनेके बाद भी दोनो सबसेअ&छे दोत ह।
पहलेएजाज़ और वम ,डोसी थे।
दोनो को केट खेलना, पहेलयाँसुलझाना और बरयानी खाना पसंद था।
वो अपनेजमदन सेलेकर उ:सव तक सब साथ ममनातेथे।
जब सेवम हरयाणा छोड़कर चला गया, एजाज़ खी रहता था लेकन वम
क चयाँउसेहमेशा खुश कर देती थ।
जो पहेलयाँवम भेजता था, उहहल
करना उसेअछा लगता था।
<end of sample>
Read the full book by selecting one of the buttons below the post
जादूई चिट्ठी English Version below:
Read this book in English here.
See more books in Hindi below