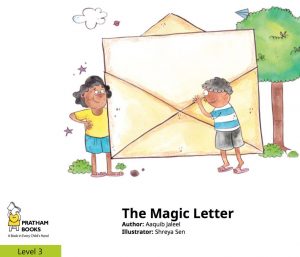 In The Magic Letter, a mystery letter from a friend results in a problem-solving exercise and provides a fun science experiment. Find out how to write a secret message in this fun STEM story book.
Author: Aaquib Jaleel, Illustrator: Shreya Sen
Text from The Magic Letter
Ijas lives in Haryana and Vikram lives in Andhra Pradesh. Even though they live so far away from each other, they are best friends.
Not long ago, Ijas and Vikram had been neighbours.
The two boys had loved playing cricket, solving riddles, and eating biryani. They had celebrated everything together, from birthdays to festivals.
Ijas had been sad when his best friend moved away, but Vikram's letters always cheered him up.
He LOVED solving the puzzles that Vikram sent.
<End of sample text from The Magic Letter>
Experiment from The Magic Letter
How to create your own magic letter
Method:
A paintbrush
1. Squeeze the juice of half a lemon into a bowl.
2. Add a few drops of water. Stir well.
3. Dip the paintbrush into the lemon juice mix and write your message on the sheet of paper.
4. Allow the invisible ink to dry.
5. Share your secret message with a friend! The message will be revealed only when the paper is heated with a candle or a warm light bulb.
Have fun!
See more Science related books in our Science Category.
---
Sponsored Links:
Note – if you sign up through these links, it doesn't cost you any extra, but FKB receives a small donation, which helps us move towards our aim of
FREE Hardcopies!  
All our posts are checked by Grammarly, the FREE online grammar checker (We still receive a donation even if you only sign up for the free account :-):


This site is hosted by Bluehost:

Leave a comment (it won't be public) if you want help getting your own website cost-effectively.