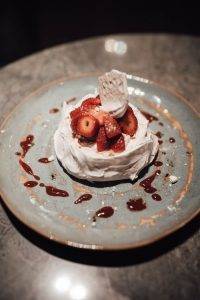 What Mom doesn't need a super easy dessert to make for the kids? I have recently come out of a bit of a slump where I couldn't make anything. I needed something super easy to make the kids happy again. I have found not one but three super easy desserts.
Mousse
Baby Seal number two asked for mousse. I desperately wanted to keep him happy. So I gave it a try. It turned out super yummy and super easy.
Whip egg whites (2 egg whites makes 4 servings) and add sugar to taste (until it tastes just sweet enough)
Whip cream (125ml is enough for 4 servings)
Combine equal parts cream and egg white in a serving bowl – just scoop a couple of spoons of each in the bowl.
The next step depends on what you want to add for flavour. Sprinkle over fruit or chocolate sauce or both!
Baby seal two wanted chocolate, I wanted strawberries with white chocolate, and baby seal number one wanted banana.
For chocolate sauce (white or dark) melt 30 seconds at a time in the microwave with a tiny bit of milk until it melts to make it a sauce. Drip over the mouse.
For fruit, just chop the fruit and sprinkle over mousse.
The secret, leave for the user to mix, it makes sure the fluffyness stays and presentation looks cool.
Therewith a 10 minute desert, and what did the baby seals think? Awesome!!
Chocolate Fudge
Baby seal number one desperately wanted fudge. I didn't even know how to make it properly, but I knew it needed condensed milk. I couldn't make it for her that night as we didn't have condensed milk but the guilt of her pleading was killing me, so next day condensed milk was on the shopping list and a short google search yeilded this super easy and surprisingly tasty recipe.
1 tin of condensed milk (375g)
1 large bar of dark cooking chocolate
a teaspoon of vanilla essence
Mix them all over low heat till the chocolate is all melted in – about 5 minutes, then poor into a suitably shaped tin with greaseproof paper or tinfoil lining and refrigerate. For quick setting put in freezer for two hours, or refrigerator for around 6 hours, then remove and cut.
And I was redeemed from enemy number one to favourite parent.
Pavlova
I've posted this before, but I honestly have this super-easy, really quick, 'never-fail' pavlova* recipe.
1 egg white per 1/2 a cup of sugar : Yes that's it!

Beat the eggs adding the sugar, (slowly, all though we all laughed when my then 4 year old thought a 1/2 cup at a time was slow, and it still worked)

Bake at 110 for 45 minutes for a pavlova, or 15 minutes for merringue size pavlovas. 
If you put in a pinch of cornflower, or a bit of vanilla, a touch of vinegar, some say it makes it fluffier, and the vanilla should add some flavour. Once theyre cool decorate with whipped cream and fruit to serve. 
I've used this for meringue and pavlova (a meringue cake), and even merriengue cupcakes (poor mixture in cupcake containers) with great success. With a time of about 5 minutes to make, lots of fun bowl licking time, and a really quick cake for occasions when you're in a hurry.

See also merringue and cookie letters here: Alphabet Baking – Eat Your Alphabet! | Free Kids Books
*a pavlova is like a merringue but it has a fluffy mashmallow like centre,