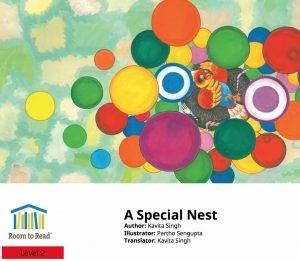 A bird is trying to build her nest for the winter, but every time she finishes she is disturbed. Until one day she finds a very inventive solution to her problem.
Sample Text from A Special Nest –
Inventive solution to a problem
Winter is approaching. A bird decides to build a nest.
She gathers little twigs and builds her nest carefully.
After a lot of care and hard work, the nest is ready. It is warm and cosy.
The bird is happy. She lies down and begins day-dreaming of a comfortable winter.
As she is about to fall asleep, she feels something shaking.
<End of sample>
Read the full book by selecting one of the buttons below the post.
This book was brought to us by room to read.
See more books from Room to Read below: