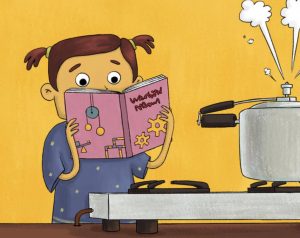 A Whistling Good Idea – STEM Rube Goldberg machine – Nivi has to turn the cooker off for Ma. It'd be really simple to just turn it off right? But what about if she builds a cool machine to do it for her? This picture book for grades 2 to 5 is a fun read with an interesting exercise at the end.
This STEM book, featuring a female main character, helps promote awareness of STEM topics for girls, who often can be put off by the lower numbers of their peers interested in the subjects.
If you're looking for more information about promoting STEM for girls, see this guidebook from a UK NGO, https://freekidsbooks.org/principia-space-diary-inspiring-girls-stem/
Note: In this fictional story the main character does use a Rube Goldberg machine in a rather cute but unrealistic fashion with gas and a hot pot, remind children about the dangers and potential inaccuracies of this type of machine, ESPECIALLY not to play with gas and heat in a system like this! If building a machine of their own, remin children of the important to only to experiment with safe items. 
Author: Rahul Raghavan, Illustrator: Ravi Gupta
Sample Text from A Whistling Good Idea – STEM rube goldberg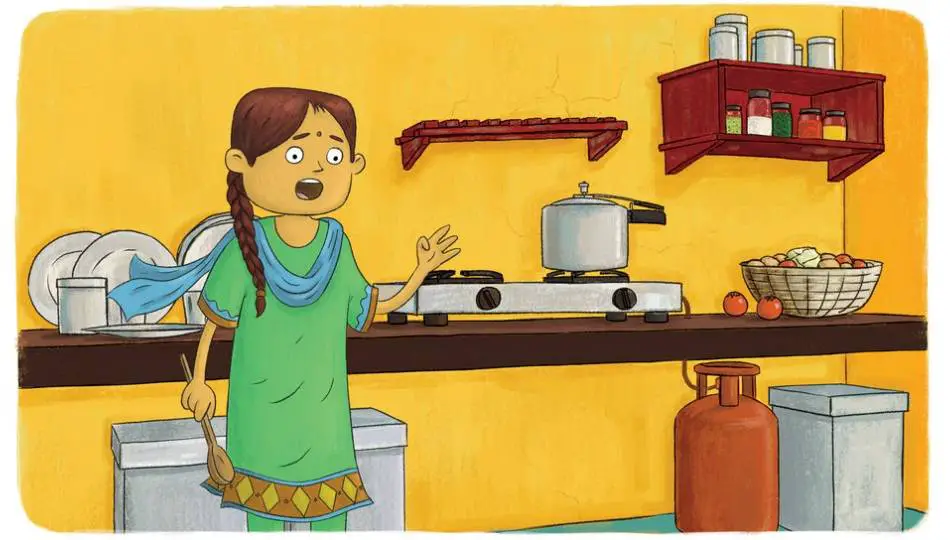 "Nivi! Turn the cooker off after three whistles, okay?"
Ma says. Ma is going to the market to buy vegetables for dinner.
Nivi makes a face.
THUMP! She puts her book down. PWFFT! She sticks her tongue out at the cooker.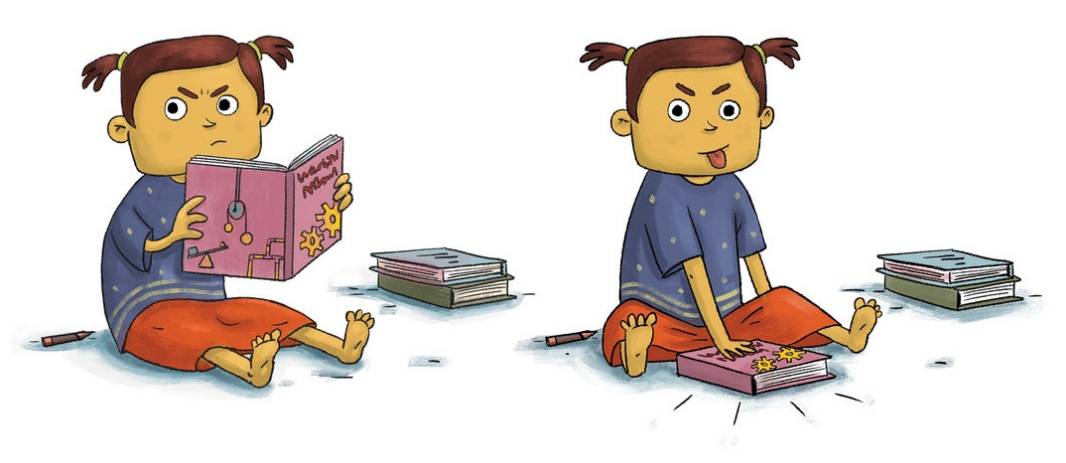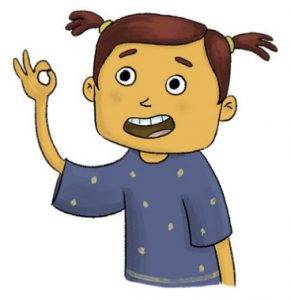 Nivi taps her foot on the floor.
She waits and waits for the whistle to blow.
All of a sudden, she has an idea!
Nivi picks up the rolling pin and places it close to the gas knob.
She arranges a row of tomatoes and potatoes behind it.
<End of Page 5 of 17 (including exercises) of A Whistling Good Idea>
Click on the button (download or read online) below the post to keep reading the full picture book (- with pictures:-).
Exercise from A Whistling Good Idea – Building a Rube Goldberg Machine of Your Own
Try your hand at building your own Rube Goldberg machine to drop a teaspoon. Here's how.
You will need:
1 thin book rolled up as a cylinder, 2 smooth long sticks for a slope, 2 thick books, 2 rulers, 1 marker, 1 eraser, 1 ball,
3 notebooks, 1 light plastic jar, a bundle of string, 1 teaspoon, 1 vessel, 1 smooth beam
Slide the cylinder down a slope.
The cylinder hits two books, placed standing up. They fall on a ruler, which is balanced on a marker. This, in turn, tips a ball.
The ball hits three notebooks.
They land on the edge of the second ruler, balanced on an eraser.
A jar, placed on the other end of the ruler, is attached to a piece of string.
The string is looped around a smooth beam above.
The free end of the string is tied to a spoon.
The jar rises when the third notebook falls on the ruler.
The string falls down, dropping the spoon into the vessel.
---
This book is released in the creative commons by Storyweaver, helping ensure every child has enough books to read!
See more books like this in our Science category!
Siyavula provides an amazingly comprehensive, beautifully presented set of free maths and science textbooks, based on the South African school syllabus. The maths and science textbooks contain around 500+ pages, and cover all learning content for each year, with worked examples, practice questions, sample papers, linked videos, and many books also provide a separate teacher …
In Sailing Ships and Sinking Spoons – lessons in buoyancy, Tenzin and Tashi, two young Tibetan monks, and Genla, the beloved storyteller of the monastery, wonder why a small steel spoon sinks in water but a huge ship floats. Their science teacher Miss Sonam helps them experiment with an apple, a spoon and a tub-full …
Physics is a little book with lots of big facts about physics. This book covers the basic principles of physics and makes a nice introduction to physics for early grades in science disciplines, and a good lead into school projects by introducing some of the facts of physics. Sample Text from Physics What is Physics? …
An amusing tale that helps us find out where metal comes from. This is another royalty free work from Tony J Moon.

Space Puzzles Book 1 – fun activities for kids from NASA
A space puzzles book for children interested in space. This activity book contains interesting facts about space flight along with activities to match.
The book includes a maths puzzle, unscramble national parks, find words, match parts of the space station, and spot the difference.
See more books from Storyweaver in our Storyweaver category!
This book can make a great starting point for some early engineering projects in elementary school or for home schoolers, if you want to look at more books that have topics, exercises, and ideas suitable for school projects, check out our School Project category 🙂
---
Sponsored Links:
Note – if you sign up through these links, it doesn't cost you any extra, but FKB receives a small donation, which helps us move towards our aim of
FREE Hardcopies!  
All our posts are checked by Grammarly, the FREE online grammar checker (We still receive a donation even if you only sign up for the free account :-):


This site is hosted by Bluehost:

Leave a comment (it won't be public) if you want help getting your own website cost-effectively.