Corona Virus Guidebook for Children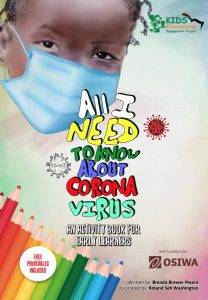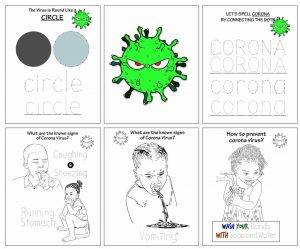 Another book about the Corona Virus, this time a comprehensive guidebook to healthy practices for children, including trace the words exercises. This book is brought to us by KEEP – The Kids' Educational Engagement Project, a Liberian initiative to promote reading.
With the Novel Coronavirus Disease (COVID-19) Pandemic raging across the globe, many countries have shut down, restricting movements, with many children compelled to remain home. Explaining to young learners why they cannot go out, to school or places of worship, as well as what the virus is, how it infects, and what are the signs and symptoms, is not always easy.
The problem for young learners is that most of the awareness messages that are being developed are focused on adults or older children. This Early Childhood Activity Book is developed specifically as a tool with which parents can engage their children in explaining the virus. It is intended to be fun- filled and educational, and designed with child-sensitive activities to enable children both to connect with, and have fun learning, understanding and retaining the knowledge provided.
This book provides parents/caregivers a possible way to discuss the corona virus while at the same time be engaged in educational activities with their children. In that regard, it enables a good family bonding time. The Activity Book also provides a parental guide on each page as well as a user guide at the back for ease of reference for parents or guardians. As such, we want all parents or guardians to have basic information they can use to teach and have fun with their child/children. The book is being provided free to families. Our interest is to keep our children, and of course their parents, safe and engaged during this outbreak. Although written for children, the messages will remind parents of the need to also act safely. If they don't, their children will remind them.
See more books like this Corona Virus Guidebook for Children 
Under our health subject below: