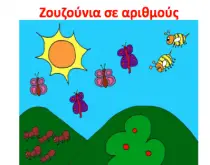 Bugs by Numbers – Greek – This rhyming book about counting from 1 to 5 for toddlers is available here in greek. The English version can be found on our home page.
Author: Danielle Bruckert
Images from Bugs by Numbers – Greek
<end of sample>
English Version Below
Children love bugs, and in Bugs by Numbers counting them can be fun. This short children's book combines bugs and numbers for learning to count from one to five. The book uses recognition, repetition and some rhythm and rhyme perfect for entertaining and teaching toddlers. Suits pre-kindergarten syllabus.
See more of these books below