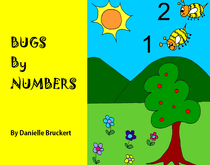 Children love bugs, and in Bugs by Numbers counting them can be fun. This short children's book combines bugs and numbers for learning to count from one to five. The book uses recognition, repetition and some rhythm and rhyme perfect for entertaining and teaching toddlers. Suits pre-kindergarten syllabus.
Author: Danielle Bruckert
Sample Text from Bugs By Numbers:
Down in the garden under the tree, there's a whole lot of creatures living with me.
One – One colourful GECKO, lying on the rock, happily.
Down in the garden under the tree, how many BUZZY BEES can you see?
One, Two – Two BUZZY BEES flying freely by me.
<End of page 4>
About the Author: Danielle writes children's books for young children, she created the FKB website to share the books with others. This book was written when her daughter was learning to count and fascinated with bugs.
Also available in other languages: Greek and Arabic, see https://freekidsbooks.org/category/files/foreign-language/
Bugs By Numbers Greek Version: https://freekidsbooks.org/bugs-numbers-greek/
Bugs By Numbers Farsi Version: https://freekidsbooks.org/bugs-numbers-farsi/
Listen and read along to Bugs by Numbers on the video below:
See Bugs By Numbers on Storytime Sandi:
Save
Save
See more books from the author below