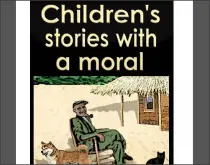 Children's Stories With a Moral – Two illustrated children's stories with a moral: The Legend of the Black Sea- a story which shows that strength of character, and belief in the good in everything is above all else; The old fisherman had a good dog, Boley, and an evil black cat, Sershina. "Master, this cat will be our undoing! Let's drive her away! Black cat, evil cat!" yelped Boley"Don't say that! You'll see that Serzhina will change and become good!" answered the old fisherman…Mommy- a story where good and bad are both done in the name of love; The poor King had lost his Queen during the birth of their firstborn daughter, Princess Selena. After that unhappy day the King was never separated even for a moment from his young daughter. But, as time went on, the little princess suffered over this….
Exert From Book 1:The Legend of the Black Sea
There once lived an old man on the shore of a beautiful sea. All day he wove nets and caught fish. There were so many that the old fisherman shared them with his animals. He had a nice dog and an evil black cat. The dog was called Boley and the cat was called Serzhina.
"Boley!" shouted the old man to his dog and it came at once.
"Boley, bring me some water because I'm thirsty!"
The dog dashed away and in a little while came back with the water.
Exert From Book 2: Mommy
In a splendid castle on the ocean shore there lived a king, just as she had given birth to their daughter, Princess Selena.
The poor man had lost his Queen in childbirth.
By: Sergey Nikolov
About the Author: 
Sergey Nikolov was born in 1980 under the sign of the Scorpion. He lives in Stara Zagora, Bulgaria with his wife and our daughter, Eva. Sergey is a government employee, but in his free time he likes to write, and to enjoy life. Sergey's adventure into children's books began almost as a joke in 2009, when he published his first children's stories on some free Bulgarian websites, just for fun. A few years later, with the unbelievable comments received from both children and their parents, Sergey began to think more seriously about his books. Forced to consider that he had created something worthwhile, he was encouraged to develop his ideas and stories adding illustrations to them, and thus creating the book you see here on our site.