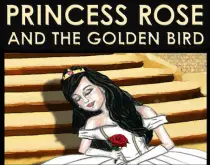 The beautiful Princess Rose and her golden bird sang a lullaby every evening, and all the people in the kingdom fell asleep and dreamed sweet dreams until the break of dawn. But one day something terrible happened. An evil witch learned about Princess Rose and decided to curse her…
A classical style fairy tale full of romance and triumph of good over evil.
By: Sergey Nikolov
Recommended by the author for ages 4 to 12, and of course for lovers of fairytales of all ages.
Exert:
Many years ago, there lived in a kingdom, far far away, a beautiful princess. She had long red hair and loved roses so much everyone called her princess rose.
Every evening after dusk she went out on the balcony and clapped her hands. A golden bird came out of nowhere and alighted on her shoulder. Instantly the princess's hair began to shine, ablaze with brilliant red light. <End of Page 1>
About the Author: 
Sergey Nikolov was born in 1980 under the sign of the Scorpion. He lives in Stara Zagora, Bulgaria with his wife and our daughter, Eva. Sergey is a government employee, but in his free time he likes to write, and to enjoy life. Sergey's adventure into children's books began almost as a joke in 2009, when he published his first children's stories on some free Bulgarian websites, just for fun. A few years later, with the unbelievable comments received from both children and their parents, Sergey began to think more seriously about his books. Forced to consider that he had created something worthwhile, he was encouraged to develop his ideas and stories adding illustrations to them, and thus creating the book you see here on our site.