Chuskit Goes To School – Chuskit is 9 years old, and yearns to go to school, but because of her disability she cannot. After learning about human rights at the local school, Abdul, initiates an effort to change this. Everyone who wants to learn should have access to an education. A beautifully illustrated and heart warming story, set in Tibet with elements of cultural awareness and local terms introduced, which are explained at the end of the book. This book is a public domain book from Pratham Books, and should be shared to help people understand about disabilities and to help promote the basic right to an education for everyone.
By: Sujatha Padmanabhan and Madhuvanti Anantharajan
Text and Images from Chuskit Goes To School

Chuskit woke up early that morning. It was a very sepcial day and she was too excited to sleep. She eagerly looked out of the room, through the windows next to her bed. It was spring time in Ladakh and the apricot trees were in full bloom. Two magpies had already begun their day and were busy looking for insects to eat. Her Ama-ley was awake too. She could hear her in the kitchen, making gur-gur tea.

Chuskit had been awake for the last hour. THis was a day she was going to remember for a long time. Can you guess why?
No, it was not Losar, the New Year festival. That was many months away.
Nor was it any special day in her village, like the gonpa festival, or a wedding day.
Today was going to be Chuskit's first day at school. At nine years, she had waited a long, long time for this.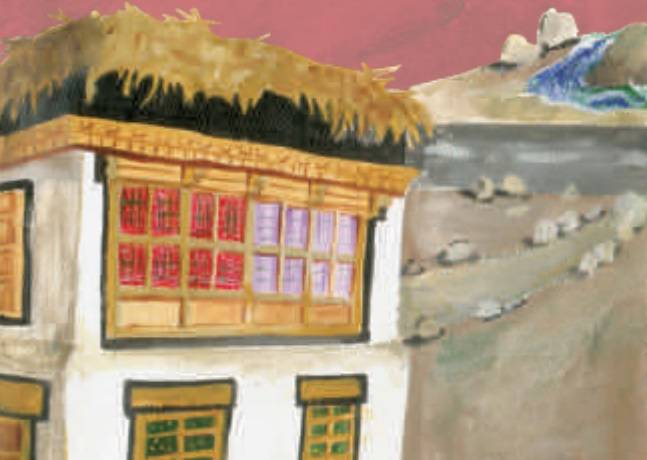 <end of sample>
Read more books about Diversity and Differences below. 
Read more books on our Public Domain below. 
---
Sponsored Links:
Note – if you sign up through these links, it doesn't cost you any extra, but FKB receives a small donation, which helps us move towards our aim of
FREE Hardcopies!  
All our posts are checked by Grammarly, the FREE online grammar checker (We still receive a donation even if you only sign up for the free account :-):


This site is hosted by Bluehost:

Leave a comment (it won't be public) if you want help getting your own website cost-effectively.