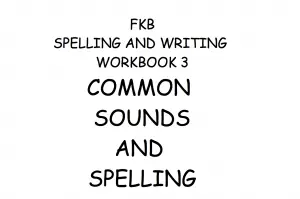 This Editable Spelling Workbook is designed simply to help reinforce common sounds for those who are struggling to read or have difficulty with English spelling. It comprises primarily of lists of short vowel words simple CVC and with more complex sounds, long vowel words, common tricky words, and more.
The words are presented in tables for learning spelling and have a vowel sorted table and a mixed up table to reinforce the sounds and letter recognition.
This file is the editable format, provided use by educators and home schoolers, so that the file can be copied, modified, and re-used in the most effective way by the user.
Editable files may have formatting changes, see the pdf version of this book on our home page, here: https://freekidsbooks.org/fkb-common-sounds-spelling-workbook-3/
The file is provided copyright free so as to help the most people, however, it is in Creative Commons CC-BY-SA attribution, so it is free to be used in any manner, even commercially, however, you need to attribute the resulting work as directed (In this case, the work should be attributed to https://www.freekidsbooks.org), and, the resulting work must be shared in creative commons in a similar manner (CC-SA or CC-NC) etc.
See more about creative commons here: https://creativecommons.org/
See more Editable Files below