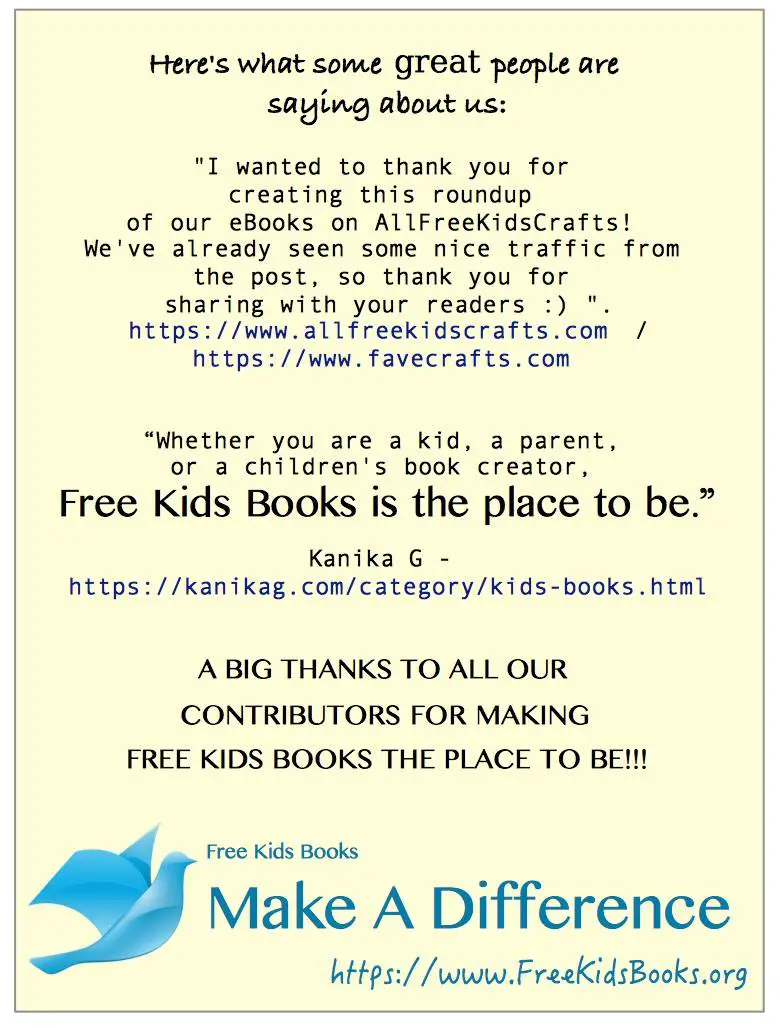 Are you a children's book author and you would like to promote a free children's book? Have you thought to yourself, where can I put my free children's ebook to get the maximum exposure for my gift to my readers? If you want to promote a free ebook for children or young adults, listen to our author's advice, Free Kids Books is the place to be!
I know it's hard to find places to go for posting your free ebook. there is several, but most sites are aimed at adults and the readership for children's books is much smaller, whereas here at Free Kids Books our audience is directly in your target market.
To submit a book, please see our submission requirements, and while we don't accept all books, as long as your book is quality and edited (we also offer free editing), you'll have a good chance of publishing with us.  We don't accept temporary promotions, but I'm happy to retweet or share your post on our SM if you have a limited time free kindle promotion. I' know Amazon has now changed it's policy somewhat on totally free books, much to my dismay. But there's no reason why you can't have a paid kindle book and a free pdf, if you want :-), our posts have the capacity to link to all your purchase sites for your work.
About FKB
I started this site 10 years ago this year, when I was a bit frustrated about not being able to find places to post and promote a free children's book. My aim as a new kid-lit author was simply to connect with readers and get reviews, but all the sites were either mainly for adults with their children's section thrown in as a side thought, or not quality checked so there was tons of material to sift through and not all great quality. And Free Kids Books was born.
My estimates were correct, as we reached out to authors, and quickly found others with the same problem. We rapidly collected many high-quality free ebooks, and the audiences likewise grew. I'm not saying it was an easy trip, there was a great deal of learning curve for me, as we learned what worked and didn't work to grow, and attempted to connect with others (not my strong point! as like most authors I'm an introvert) but I can happily say, or at least quote my authors and colleagues in literacy non-profit and profit-making orgs, that we are now a name in the area of free children's books.
What you can expect if you publish with Free Kids Books:
Authors on FKB have free access to our blog and social media. If you want to promote a new book, just email or message me the details and I'll help share. Many authors and contributors have been very happy with the through traffic we provide them, so if your aim in providing a free book is to gain more exposure or a wider audience, FKB is the place to be.
Reader Stats and Website Stats (2019 year-end)
Our site currently attracts around 10,000 visitors and about 40,000 page views a day on week days, and slightly less on weekends. You can expect your picture book to be read from around 100 up to 500 times a day when on the main page, reducing as the book moves down the page, about half that for chapter books and YA books, as we have a smaller audience in this sector (but I'm working on this!). Most books reach around 1000 reads within a week or two of being on the site, and after that it depends on popularity, and all this promotion is free of charge to you! Our social media accounts are still quite small, as is our blog page, as I sadly neglected them for the first 10 years of FKB existence, but they are steadily gaining traction. At the time of writing we have about 4000 followers each on Facebook and Twitter, these are open to our authors, and we always retweet your promos if you tag me.
A book on our site is a wonderful form of free advertising, also, remember to include your links inside your book too! The book itself is like a business card.
About having a free book for promotion
A free ebook is a great way to connect with your audiences. It gives audiences a sample of your work and is an amazing form of free advertising. I firmly believe all authors should have at least one free book, as often quoted, the biggest risk to authors' incomes in not piracy but obscurity, the more you share your work and connect with your audience by giving them freebies, the wider your work will share. You can read more about having a free book for promotion here – https://freekidsbooks.org/free-giving-away-books-helps-sales/.
Licenses for free books
If you publish on Free Kids Books, your work can be licensed any way you like, for example a standard copyright, one of the creative commons licenses, or even as some authors choose, completely open. We tag your book with an identifier page which reinforces the copyright, and also identifies the copy as the one hosted on our site, both for google to know we didn't steal it, and if others do steal it and repost it without your permission (sadly there are bad people who will take advantage everywhere), then the page can trace it back to the version authorised for use on our site only for example.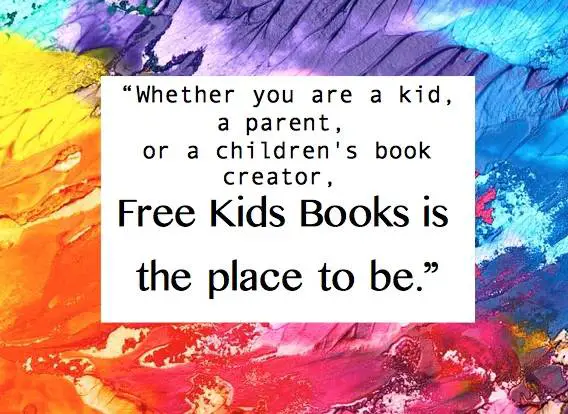 What Other Authors say
"For promoting children's and young adults' free books, Free Kids Books is the place to be." Kanika G, Author, https://kanikag.com/category/kids-books.html
The digital age makes it easy to publish books. Unfortunately, hard copies of children's books are still fairly expensive, as they have to be printed on good quality paper in full colour. I believe children deserve easy access to a plethora of books to light up their imagination and fuel their curiosity. But it isn't easy to make a book budget for them. Often they pick up a book enthusiastically, only to loose interest a few minutes later. So what can parents do?
FKB makes a wide variety of books available free, so kids can try out as many books as they like to figure out what really grabs their interest without putting a dent in their parents pockets. Then one can go to a bookstore or Amazon and buy hard copies with more confidence. Sure kids need tangible paper books but FKB is a great place to help you figure out which ones to invest in to get the most out of your book budget.
The digital age is a blessing for authors allowing them to self publish. But once our books are out there, how do we find an audience? Marketing and building an audience is the biggest hurdle self-published authors encounter, for their books just get lost in an ocean of similar books. FKB gives children's book authors a great platform to reach their target audience and connect with them. So whether you are a kid, a parent, or a children's book writer, FKB is the place to be!"
"I wanted to thank you for creating this roundup of our eBooks on AllFreeKidsCrafts! We've already seen some nice traffic from the post, so thank you for sharing with your readers 🙂 ". https://www.allfreekidscrafts.com  /  https://www.favecrafts.com
Do you want to submit a book (to find out how to promote your free children's book best see – https://freekidsbooks.org/submissions/)or have more questions? Leave a comment (it's reviewed by me before it goes public, so make a note if it is a private message), or email me, or contact me via one of our social media channels. If I don't reply back, note it's definitely been lost in cyberspace, please try again!