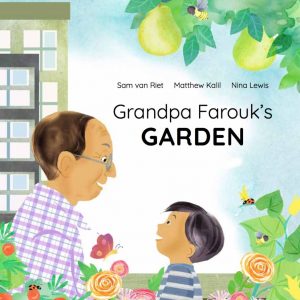 Grandpa Farouk has an amazing garden and when Amir visits, he loves helping out with all the tasks.
This picture book is perfect for young early readers. Picture books help keep your little ones interest and attention, by introducing them new words and at the same time giving them wonderful and fun drawn pages
Illustrated by Sam van Riet, Written by Matthew Kalil
Text From Grandpa's Farouk's Garden

Deep in the city, surrounded by houses and bricks and tar, you'll find Grandpa Farouk's garden.
Amir visits Grandpa once a week.
He loves the leaves and owers and trees.
Amir helps to water the plants.
He helps with the compost, and works with his Grandpa all day.
When they finish, they feast on a harvest of fruit.
One day, Grandpa didn't eat his pear. "What's wrong?" asked Amir.
"My garden is dying," replied Grandpa. "Why?" asked Amir.
"Look closely," said Grandpa. "Some pests are eating the plants."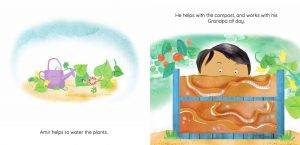 "We need ladybirds!" said Grandpa. "They are the bugs that eat the pests that kill the plants. Without ladybirds, the garden will die."
"I'll bring you a bug or two," said Amir.
For a whole week, Amir looked and searched and collected.
He found one ladybird on the sports field.
Two more at the shop.
Three at the park.
And four behind the TV.
Next week, Amir went to visit Grandpa Farouk, and showed him his jar of ten bugs.
"You've done well, oh my boy, you've done well," Grandpa said, with a tear in his eye.
Grandpa was very happy. The ladybirds were very hungry!
The ladybirds ate the pests, and the garden blossomed.
From that day on, Grandpa Farouk's garden did what gardens should do.
It grew and grew and grew.
<End of Text from Grandpa Farouk's Garden>
This book is another great free creative commons book from BookDash, a South African non-profit dedicated to helping all children have enough books to read. Visit Bookdash's website, here: https://bookdash.org/ 
See more books by Bookdash
---
All our posts are checked by Grammarly, the free online grammar checker (British English used):
This site is hosted by Bluehost:

Leave a comment (it won't be public) if you want help getting your own website cost-effectively.