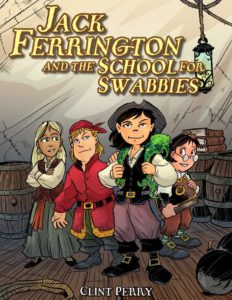 In Jack Ferrington and the School for Swabbies, a children's pirate adventure for lower middle grade, new 6th graders learn what leadership is in their new school. The book features Jack and his friend's chaotic first day and all the adventures they end up in trying to master a new leadership task to learn what middle school is all about.
Enjoy book 1, Jack Ferrington and the School for Swabbies, free and then dive deeper into the story in book 2, Jack Ferrington and Blackbeard's Lost Treasure and the upcoming book 3, Jack Ferrington and the Kraken's Curse at www.flyrockit.com.
Sample Text From Jack Ferrington and the School for Swabbies
Jack was wide awake before his parrot, Cap'n Keno, had a chance to squawk out an alarm. For a parrot, Cap'n Keno had an incredibly accurate sense of time and knew the hours of the day almost as dead on as a watch. Today it was his job to make sure Jack got up in time for school, but there was no need. Jack beat him to it.
Nonetheless, at 7 AM, Cap'n Keno squawked, "Get yer booty outta bed!"
"Keno," Jack said with a chuckle. "You can see I'm already awake."
"Keno bell. Keno bell," The parrot responded, bobbing his head in an up and down motion.
Today was the first day of the sixth grade at
pirate school. Jack was giddy with anticipation. He had barely slept the night before, tossing and turning in his hammock, just under the edge of sleep, dreaming of sea serpents and sword fights. He woke several times throughout the night, hoping it was morning, but when he looked out his porthole, all he could see was stars and the black sea.
Jack had been waiting for this day for five years. No more lessons in numbers and letters. No more tests on pirate history. No more lunches with the 1st-grade pirates. They were the worst! Brand new to the pirate school, they couldn't stop asking questions. Oh, Jack was so done with 1st-grade pirates, not remembering he had once been one himself.
He already had his new octopus backpack filled with all the supplies he thought he'd need for the first day of school. Octopuses made for great backpacks. The tentacles worked as straps, and the octopus itself was a stretchy elastic book bag with great durability.
<End of Sample>
Read the full book on the buttons below the post.
BOOK REVIEW – Reviewed by Ann Neville for Readers' Favorite
Following Jack through his first day at the School For Swabbies leads the reader on a wonderful adventure full of both suspense and humor. I thoroughly enjoyed the way in which the author, Clint Perry, uses authentic pirate terms throughout the dialogue, and connects everyday actions to pirate vernacular – very cleverly done. The setting of the school on a real pirate ship adds another dimension to an already intriguing story.
About the Author:
Clint Perry is a Joe Raposo Songwriting Award Nominee, Parents' Choice award winner and bestselling lead singer and songwriter of the kindie rock band, The Boo Hoo Crew. He is also the author or four books for preschool and middle-grade readers including the "School for Swabbies" series. Clint lives in Monument, CO with his wife and three sons.
Follow Clint on Twitter @clintjustclint or visit him at clintjustclint.com, boohoocrew.com or schoolforswabbies.com
"We're a kindie rock band that's put out five albums and now those songs have sparked books."
See the song that inspired the book here on YouTube or download from the mp3 link below:
See more about Clint and his books at his author site https://www.clintjustclint.com/
See more songs at the Boo Hoo Crew website https://www.boohoocrew.com/
See more middle-grade books in our section for Older Children, as included below