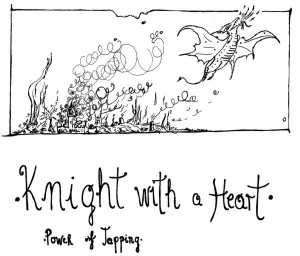 The Knight with a Heart tells a story in verse about a knight who learns to handle his emotions and a happy ending. Throughout the book we learn about simple Emotional Freedom Techniques which children can use to handle negative emotions.
Ognjen Livada and Margareta Persic
Sample Text from Knight with a Heart
The Mighty Dragon destroyed the town,
The Knight with the Sword went to hunt him down. The Girl with a Pen started to write:
Tap your problems away with your fingers and heart!
"Where is my sword?" shouted the Knight,
"I need it right now for my new ght.
I am angry as should I be,
Bring me my sword or trouble there will be!"
When the Girl with the Pen saw the furious Knight,
She grasped the side of her other hand and held it tight. This helped her to remain calm
And confront the Knight on his furious tone.
<End of Page 2>
Example of the EFT Techniques taught in the book:
Three times the Knight said while tapping his hand: "Even though I feel anger because I can't nd my sword, I am still a good Knight, from my head to my toes."
"Now tell me more about the problem that's on your mind And tap along the points at least 2 times."
Top of the Head: I needed my weapon
Eyebrow: That's what I say
Side of the Eye: Or else how can I fight
Under the Eye: Mighty Dragon the Great?
Under the Nose: I can't find my sword
Chin: And angry I am
Collarbone: And I will be angry Under the Arm: Till the end of the day!
About EFT
EFT stands for emotional freedom techniques, and is based on tapping pressure points while repeating a phrase intended to acknowledge, accept, and release negative emotions. There is great benefit in teaching children methods to handle their emotions early so they can become healthy well adjusted adults.
Save
If you enjoyed this book, you may also enjoy these other free children's stories from Ognjen Livada:
See more books from the Author below