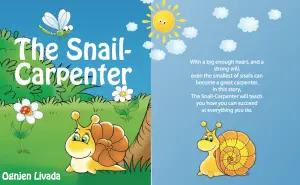 The Snail Carpenter tells a tale of striving for a dream. With a big enough heart, and a strong will, even the smallest of snails can become a great carpenter. In this story, The Snail-Carpenter will teach you how you can succeed
at everything you do.
Text and Images from The Snail Carpenter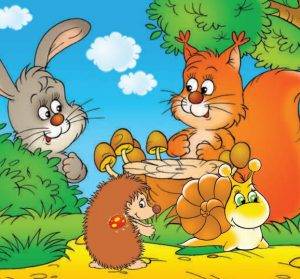 Whenever somebody says "that's impossible", I remember a story that my Grandpa loved to tell me. Grandpa was a carpenter, and the story was about a snail, the smallest and most fascinating carpenter in the world
My Grandpa's story went like this…
In the green meadow under the old branches lived a tiny snail. Curled up in his grubby little home he thought about all kinds of things. Most of them were very unusual things for a snail to think about. He thought about how much
he wanted to carve the old worn-out looking tree stump and make its surface gentle and nice. He thought of it during the days and dreamed of it at night, how he could carve the wood. Oh, the snail had such a great wish to be a carpenter.
<End of Page 1>
If you enjoyed this book, you may also enjoy these other free children's stories from Ognjen Livada:
See more Inspirational books below
---
Sponsored Links:
Note – if you sign up through these links, it doesn't cost you any extra, but FKB receives a small donation, which helps us with our project to buy more FREE Hardcopies   for kids who need them

All our posts are checked by Grammarly, the FREE online grammar checker (We still receive a donation even if you only sign up for the free account :-):