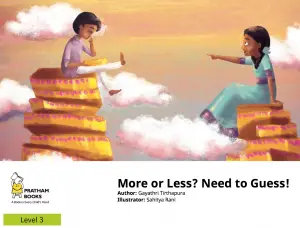 More or Less? Need to Guess is a fun story about estimating. The lesson of how to estimate is brought across in a fun way using a story of two children counting gift bags for a wedding. The book also contains explanation and exercises at the end for clarity and additional mathematics work.
Another great children's STEM book from Pratham and Storyweaver. This book is rated level 3 by Pratham.
Author: Gayathri Tirthapura
Illustrator: Sahitya Rani
Text and Images from More or Less? Need to Guess!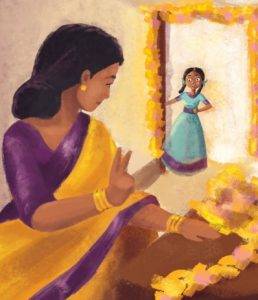 "Ranju, can you get me two coconuts from that basket?"
Ranjita raced to the other side of the room.
She returned in an instant with the two coconuts.
Amma was pleased. "Thank you, darling! You are such a help."
Ranjita glowed with pride. It was a BIG day today – her uncle Mahesh Chikkappa's wedding! And she had a BIG responsibility – to hand over mithai boxes to the 100 guests after lunch.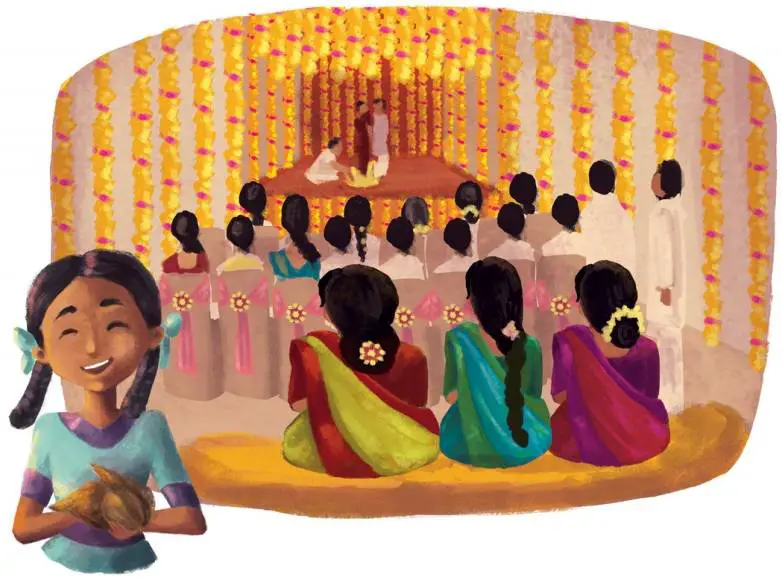 But where were the mithai boxes?
"Oh no!" cried Amma. "The boxes are still in the room upstairs! Run and bring them down quickly, Ranju.
The guests have almost finished their lunch."
"Amma, you never ask ME for help!" said a small, whiny voice. "And I'm hungry."
"You can help Akka, Vikky," said Amma soothingly. "Ranju, take him with you, please?"
Ranjita frowned. Why did Amma always do this? Her little brother Vikram was SO annoying! But there was no time to argue.
<end of sample>
Or read along with the video below
About Pratham Books
Pratham Books goes digital, FKB  is helping with their aim to get a book in every child's hand!
Storyweaver, their digital platform is provided to weave a whole new chapter in the realm of multilingual children's stories. Knitting together children, authors, illustrators and publishers. Folding in teachers, and translators. Creating a rich fabric of openly licensed multilingual stories for the children of India and the world. Their unique online platform, StoryWeaver, is a playground where children, parents, teachers and librarians can get creative, using the resources to make your own unique books online.
About Creative Commons
Content under Creative Commons licenses can be downloaded, translated and can even be used to create new stories ‐ provided you give appropriate credit, and indicate if changes were made. To know more about this, and the full terms of use and attribution, please visit the following.
See more Maths books below
See more books by Pratham's Storyweaver below
---
Sponsored Links:
Note – if you sign up through these links, it doesn't cost you any extra, but FKB receives a small donation, which helps us with our project to buy more FREE Hardcopies   for kids who need them

All our posts are checked by Grammarly, the FREE online grammar checker (We still receive a donation even if you only sign up for the free account :-):