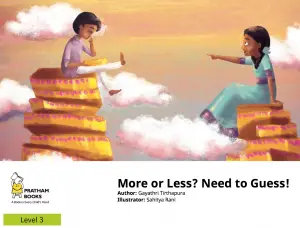 More of Less? Need to Guess is a fun story about estimating. The lesson of how to estimate is brought across in a fun way using a story of two children counting gift bags for a wedding. The book also contains explanation and exercises at the end for clarity and additional mathematics work.
Another great children's STEM book from Pratham and Storyweaver.
This book is rated level 3 by Pratham.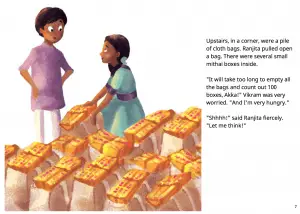 SAMPLE PAGE
Upstairs, in a corner, were a pile of cloth bags. Ranjita pulled open a bag. There were several small mithai boxes inside.
"It will take too long to empty all the bags and count out 100 boxes, Akka!" Vikram was very worried. "And I'm very hungry."
"Shhhh!" said Ranjita fiercely. "Let me think!"
Save
Save