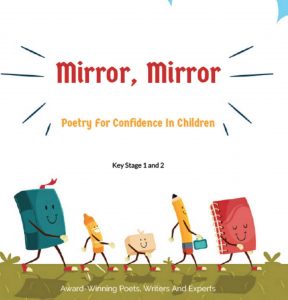 Confidence in children is what this poetry book aims to inspire, promoting self-esteem and healthy thinking. The collection of 27 poems from acclaimed authors, highly experienced educators, and award-winning poets, along with bonus material including journal questions to help inspire good attitudes, positive feelings, and more confidence in children.
Preview Of Poetry Book Mirror, Mirror. Poems about self-confidence created especially for children.
Why This Poetry Book?
Confidence in Children
Globally there is an urgent need for books that reach children on their level in confidence, and 21 award-winning poets, writers and experts have come  together on a wonderful variety of excellent and beautifully crafted poems on the theme of confidence and self-esteem for children. Each writer donated 1-3 poems to the cause. People have been calling  the contributors "the inspired movement".
The teacher/parent or child can also read the very personal revelations generously shared by each poet as to how issues of self-esteem and self-confidence  have appeared in each of their lives. Some poems are for the reader to decide, and some poets have used power questions in the book to get the child thinking or doing.
In addition there is also a valuable journal of power questions at the end of the poetry book to use everyday for self- confidence and self-esteem.
The book is aimed at children themselves and/or via parents/teachers or carers. We feel this theme really matters to children and can be accessed  more easily through poetry. The poetry book is from the heart, as we stronglly believe in its very important premise.
Award-Winning Poets, Writers And Experts Included, and the poems in this book are:
Nicholas Allan – a.The Vest b. Pants

Steve Bowkett – a. Dear Steve

Ann Bryant – a. Dora The Dancer b. Nico,The Naturalist




c. Finn Is Over The Moon

Jane Clarke – a. Finding A Friend

Sonia Dixon mbe – a. Feelings

Alan Durant – a.The Thought – Football

Sandra Horn – a. Song b. Ruling The World c. Stars

Ellie Irving – a. Self-Esteem

Lily Jensen – a. Your Divine Self

John F Mcdonald – a. Almost Weightless




b.Transformation

Tony Mitton – a. Solo Song

Michaela Morgan – a. Choosing And Losing

Brian Moses – a. Where Dreams Begin

Michael Neill – a. Possibilities

Jenny Nimmo – a. Magic Is In My Head

Guy Parker-Rees – a. Cheeky Monkey

Brian Patten – a. You Can't Be That

Tim Pond – a. Sempre Stimmung

Merlynda K. Robinson (LLAM) – a. The Vain Stag

Dr. Joseph S. Rubino – a. The Angel's Visit




b. The Day In The Life Of The Resigned

John Townsend – a. The Simple Proof b. Being A Genius

Bonus Gift Illustration

Conclusion

Journal Power Questions
<End of sample from Mirror, Mirror – Poetry for confidence in children>
If you're looking for more books about values or behaviour, see our sections, our Values Category contains books with important life lessons, and our Behaviour Category includes books that discuss or inspire better behaviour and habits. You can also find more books that assist with confidence in children in our Diversity and Differences section where we encourage celebrating differences to ensure children are secure about being themselves.