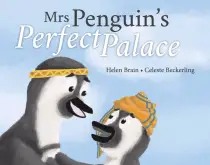 Mrs Penguin's Perfect Palace – The Penguins are trying to build a perfect palace for Mrs Penguin, but something keeps going wrong. Eventually persistence and team work pays off. Another great creative commons book from Book Dash.
By: Helen Brain, Celeste Beckerling
Text and Images from Mrs Penguin's Perfect Palace
"Come children, we'll build Mama a mansion                              So the Penguin family set to work.
from stone."
"The stones are heavy,"                                                           "I'm still hungry," said Gobbles.
grumbled Sissie.
<end of sample>
See more Books about Animals below