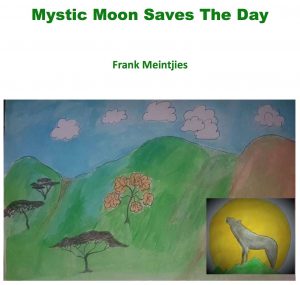 In Mystic Moon Saves the Day and Animal stories for kids, Frank Meintjies tells the tale of a compassionate wolf who overcomes his fear and rivalry with the lions to help out two stranded cubs.
This is the second book by Frank Meintjies here at Free Kids Books, his first book is Teacher Owl's Class.
This book is perfect for introducing chapter books for children.
Text From Mystic Moon Saves the Day – Animal stories for kids
Mystic Moon wandered the Magaliesberg hills for many days and many months. In this time, he had seen no other wolves. He had come across some lions but kept his distance. Now and again they growled at him from a distance as he moved between the age-old brown rocks and the vegetation − bushes, grass, wild flowers. At other times, careful to stay downwind, he came close to the lions, just watching them and getting to know the other animals in the area. He loved climbing to the crest in the afternoon light.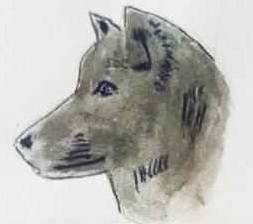 Up there, he could feel the cooling air, sometimes gusting and sometimes gentle. He could see far into the distance  the grasslands far away and here and there a human dwelling. Sometimes when the wind pushed hard, it caused tears in his eyes. But he was at peace here, finding a stillness in himself.
One day he noticed two young lions playing on the hillside, moving higher and higher up in the folds between the crag. His eyes drifted to some eagles circling a few miles west. He also saw a few grey clouds drifting in and wondered if rain would come. When he turned back to look at the cubs, they were perched on a narrow ledge. Below them, the valley fell away, hundreds of feet. He could see no adult lions nearby.
<End of sample text, page 1 of 5>
Reading time: approximately 15 minutes; Word count: 1085 words.
Copyright notes: this text may be copied for educational purposes, otherwise all rights are reserved by the author.
See more books about Animals below
See more books for Children below
---
Sponsored Links:
Note – if you sign up through these links, it doesn't cost you any extra, but FKB receives a small donation, which helps us with our project to buy more FREE Hardcopies   for kids who need them

All our posts are checked by Grammarly, the FREE online grammar checker (We still receive a donation even if you only sign up for the free account :-):