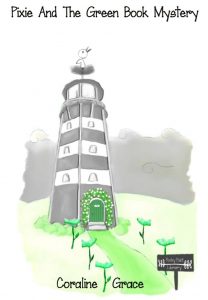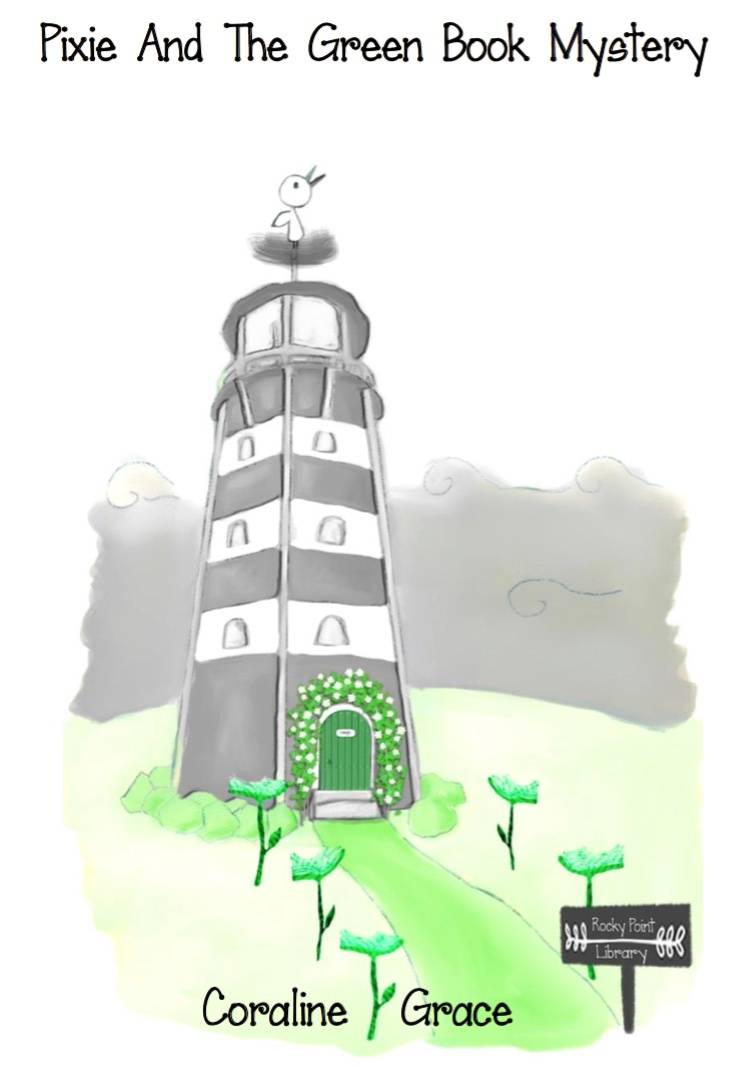 Pixie And The Green Book Mystery is the first in a series about the adventures of Pixie from Coraline Grace. The Purple Mystery, and The Yellow Mystery are up next.
Magic is alive at The Rocky Point Library.
It's an apple disaster day for Pixie, a second-grader at Rocky Point Elementary. However, a trip to her local library changes everything. When Pixie happens upon a mysterious green book, she discovers the fairy tales have come to life out of the books. All the characters are running around and the stories are all jumbled up. But danger is lurking just around the corner. The usual librarian, Miss Rita Goode, is nowhere to be seen. And it doesn't take long for Pixie to learn the man behind the counter is an imposter. He's an evil Book Guardian trying to capture the fairy tale characters and rid their books forever.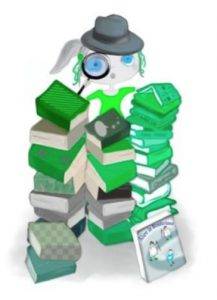 a girl who loves reading, Pixie will do whatever it takes to save her new friends. Tick tock… time is running out! Can she get them safely back into their books before it's too late? Or will the world of fairy tales come to an end?
This action-packed, nine-chapter, story which is wholly illustrated in the colour green, is perfect for early independent chapter readers. Pixie is a loveable hero and will soon become your child's favorite character.
This book is a good introduction to chapter books for second graders and can be read in installments, eg each chapter, for reading time or for bedtime stories.
The book has lots more fun at the end of the story: Words You May Not Know, Five Book Activities, A Favorite Recipe of Pixie's.
QUOTES About Pixie and the Green Book Mystery
"This book was so much fun to read! Imaginative and full of surprises, it is sure to mesmerize children in grades 2-4. The cute names are sure to get a giggle out of the readers – Pixie whose real name is Marigold and her aunt Gracie Bell Jingles. And how can you not like the message that "books just make everything better". The illustrations by Encarna Dorado – I can only describe as super cute. Especially good for children who get bored easily as the chapters are short and set a quick pace.
One day when "almost nine-year-old" Pixie goes to her local library she finds that something has changed. As she pulls her favorite fairy tales from the shelves she finds that the characters are not in the right books. She also discovers a mysterious glowing green book that causes fairy tales to come to life. Lurking in the library is the Book Guardian who captures the fairy tale characters in the green book. With Cindi (Cinderella) running around in one shoe, the White Rabbit in a panic that he's late, Alice in Wonderland explains to Pixie that the Book Guardian is behind all the chaos. He has proclaimed that "Fairy tales will be trapped inside electronic gadgets forever!" Alice needs Pixie's help to get the characters restored to their appropriate books. Can Pixie save the characters, thus saving the beloved fairy tales? Come along and find out!
At the end of the book is a glossary of words that may be unfamiliar to the children. There are also discussion questions and activities and a recipe for Ants on an Apple Log.
I am already looking forward to the next book in the series – Pixie and the Purple Mystery."
~ B. J. Taylor
"Pixie and the Green Book Mystery by Coraline Grace was a hit from the beginning! This is a delightful book for any youngster around 9 years of age to read. It's an imaginative book filled with sensorial delights and famous fairy tale characters that come to life. The illustrations by Encarna Dorado were precious. Watch out for the Book Guardian so he doesn't capture you! And do know this…you can be any age you want and still enjoy the book. Loved the Words You May Not Know section at the end of the book (every child's book should have one), the Write On ideas and the Easy Snack suggestion was a pleasant addition. A great chapter book for schools, libraries and home bookshelves anywhere."
~ Q T
This story is currently being made to an audio book. This should be completed February 2020.
Sample Text: Too Many Apples – Pixie and the Green Book Mystery, Chapter One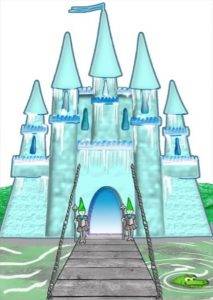 "Oh, crumbs!" Pixie mumbled. "Why is everything going wrong today?"
The morning started out rather crummy when she showed up to school wearing apples from her bows to her toes. It wasn't out of the ordinary for Pixie to have apples on her clothes. But she had never worn so many. In fact, she was quite fond of them. After all, Pixie's real name was Marigold. Just like the apple.
Pixie's classmate, Jack, noticed the apples during a math test. He began to point and snicker. Soon others erupted in laughter.
Alora, Pixie's BFF, gave her thumbs up and whispered, "Just ignore them, Pixie, okay?"
To make matters worse, the teacher, Miss Gruff, called Pixie to the front of the classroom and fussed at her for disrupting the class. "I've never seen such muttering and slouching. Now go sit down and finish your problems!" Miss Gruff had a stormy face and didn't like kids. Pixie was used to being the teacher's pet, except in this class.
She sat back down at her desk and picked up her blue pencil. It was fish face Jack's fault, Pixie thought, but said nothing. Nobody likes a tattle tale. What does he know? He has eyes like a fish and doesn't blink.
Pixie blamed her big sister, Caroline, for the fashion disaster. Apparently, wacky clothes and knee socks are GC in seventh grade. GC stands for girlcentric and means cool. But this was not the case at Strawbridge Elementary. Pixie glanced at the ticking clock. Ugh, it was only 10:09 a.m.
Later, at the water fountain, Pixie took four gulps of water and PING!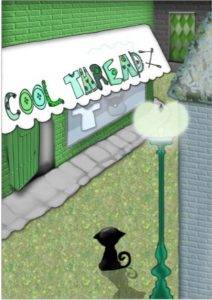 "Oh no," she cried looking down at her soggy pencil. It was a special blue fuzzy pencil. Her Aunt G had sent it from one of her exotic travels.
Gracie Bell Jingles was her real name, but Pixie called her Aunt G for short.
Pixie was sure great kings and queens had used this pencil to sign important papers.
"Super gross!" she huffed, pulling it out of the mucky drain. "My day has gone from bad to worse!"
Alora kept trying to cheer Pixie up. She even gave her a soft-centered piece of chocolate from her lunch box. It was useless. Pixie watched Jack show off his hot pink laced shoes at the lunch table. Pink's a silly color, she said in her head. And to make matters worse, one of Pixie's loopy ribbons fell into her caramel dip. The only time she perked up was when the school bell rang at the end of the day. Usually, she and Alora counted how many acorns they could crunch under their shoes walking home. But today she ran home by herself.
Pixie didn't even stop to catch the falling leaves.
<End of Chapter One of Pixie and the Green Book Mystery>
Five Book Activities from Pixie and the Green Book Mystery
Write On…
1. Pixie was not feeling good about herself at the beginning of the story. One of her classmates was making fun of her apple clothes. Was there ever a time when someone made you feel mad or upset? What happened?
2. What character do you relate to most in the story? Write a list of 5 things you have in common.
3. If you could jump into a fairy tale story which one would it be? Draw a picture of you on the book cover.
4. Think of another end to the story that is different from the one the author wrote. Write at least one paragraph.
5. Makeacolorfulillustrationofanexciting scene in the book on white cardstock. Be sure to put the title and author of the book on your picture. Then cut into puzzle parts. Put your puzzle in the class reading center for others to enjoy.
About The Author
Coraline Grace is from the great state of Texas. She lives in a wonderland forest surrounded by towering oaks, shrimp boats, tree frogs, and hummer birds. Coraline's happily married, has 4 kids, loves everything books, and is obsessed with Japan. Someday she plans on traveling there, and not sure if she'll return. She holds a B.A. in child psychology and a Masters in Education with an emphasis on reading, supporting her passion of learning and facilitating children into becoming lifelong readers. When she's not romping the library, she's playfully crafting words in her hobbit-like home.
About The Illustrator
Encarna Dorado lives in Andalusia, a village with great heritage located in southern Spain. Most of her time is spent with her teenage son and husband of 17 years. Encarna is a master of many trades with her highest interests in the arts. She loves to draw, swim, beach comb, and sail the ocean blue. Encarna studied Image and Sound at Jerez de La Frontera and Applied Arts in Cadiz. When Encarna's not illustrating Pixie mysteries, she's out dancing and listening to live music, each tapping into her creative impulses. Oh, and she's also an expert at cooking scorpion fish.
See more of our early chapter books for older readers below
---
Sponsored Links:
Note – if you sign up through these links, it doesn't cost you any extra, but FKB receives a small donation, which helps us with our project to buy more FREE Hardcopies   for kids who need them
All our posts are checked by Grammarly, the FREE online grammar checker (We still receive a donation even if you only sign up for the free account :-):