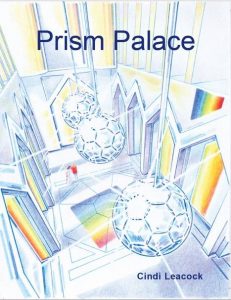 Prism Palace is the story of a little girl who gets a prism for her birthday and learns alot about light and how it bends and forms a rainbow. Tess Renee gets more than she bargained for with her new birthday present, a light fairy, a rainbow elf, and a lot of knowledge about light wavelengths and how the rainbow (ROY G BIV) is formed. This beautifully illustrated children's tale tells a story that combines fantasy with scientific knowledge.
Author Cindi Leacock, Illustrator Ray Meenan
Sample from Prism Palace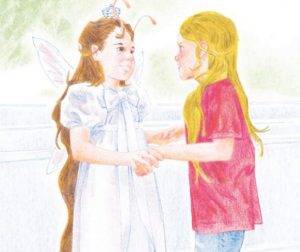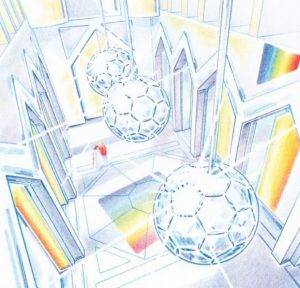 tess held out her finger. She had barely touched the fairy's hand when she found herself holding hands with the fairy and standing on the sill. "Oh, my goodness! I am as little as you." Tess said, looking down at herself
"Come inside my palace,"  said the fairy as she pulled on a crystal door knob. The hallway inside was enormous and blazing with lights of every color. With these words the adventure for Tess Renee begins.
<End of Sample>
About the Author
The author, Cindi Leacock is a science writer who is passionate about teaching science to children. This book makes a wonderful STEM book for girls too, since the main character is a little girl, and there is wonderful fairytale style explanations.
Take a trip with her inside a prism, and skate with her on a ray of light. Meet an amazing
elf and learn his special name. Prism Palace combines the excitement of an adventure story with science knowledge
about light and wavelengths, a treasure for every child's library.
See more STEM books in our Science Category.
Siyavula provides an amazingly comprehensive, beautifully presented set of free maths and science textbooks, based on the South African school syllabus. The maths and science textbooks contain around 500+ pages, and cover all learning content for each year, with worked examples, practice questions, sample papers, linked videos, and many books also provide a separate teacher …
In Sailing Ships and Sinking Spoons – lessons in buoyancy, Tenzin and Tashi, two young Tibetan monks, and Genla, the beloved storyteller of the monastery, wonder why a small steel spoon sinks in water but a huge ship floats. Their science teacher Miss Sonam helps them experiment with an apple, a spoon and a tub-full …
Physics is a little book with lots of big facts about physics. This book covers the basic principles of physics and makes a nice introduction to physics for early grades in science disciplines, and a good lead into school projects by introducing some of the facts of physics. Sample Text from Physics What is Physics? …
An amusing tale that helps us find out where metal comes from. This is another royalty free work from Tony J Moon.

Space Puzzles Book 1 – fun activities for kids from NASA
A space puzzles book for children interested in space. This activity book contains interesting facts about space flight along with activities to match.
The book includes a maths puzzle, unscramble national parks, find words, match parts of the space station, and spot the difference.
---
Sponsored Links:
Note – if you sign up through these links, it doesn't cost you any extra, but FKB receives a small donation, which helps us move towards our aim of
FREE Hardcopies!  
All our posts are checked by Grammarly, the FREE online grammar checker (We still receive a donation even if you only sign up for the free account :-):


This site is hosted by Bluehost:

Leave a comment (it won't be public) if you want help getting your own website cost-effectively.