Puss in Boots is a class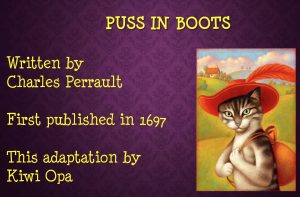 ic children's stories. The most renowned version was published by Charles Perrault, as retold here by Kiwi Opa. As a folk tale, no one knows the exact origin, but this version of the classic tale was published in France in 1697.
Check Out More Classic Stories.
This book provides 3 Classic Children Stories from Arabian Nights, also called one thousand and one nights. The of the most popular stories, Sinbad the Sailor, Ali Baba and the Forty Theives, and Alladin, are featured in this text, edited by William Patten.
This collection of Hans Christian Andersen's popular stories for children includes The Emperor's New Clothes, The Snow Queen, and The Little Match Girl among many others. This work is in public domain, and as such can be used in any way by anyone, even to modify and create your own stories. You can also download read online here: Hans Christian Andersen Fairy Tales Read Online
Check out FreeKidsBooks Classic Stories Collection Here.