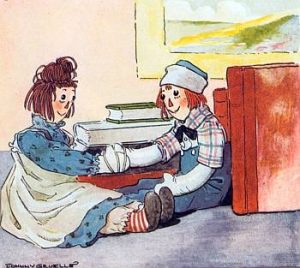 In this version of the classic Raggedy Ann stories for children, the original text is provided with images.
Raggedy Ann is a character created by American writer Johnny Gruelle (1880–1938) in a series of books he wrote and illustrated for young children. Raggedy Ann is a rag doll with red yarn for hair and has a triangle nose. Johnny Gruelle received US Patent D47789 for his Raggedy Ann doll on September 7, 1915. The character was created in 1915 as a doll, and was introduced to the public in the 1918 book Raggedy Ann Stories. When a doll was marketed with the book, the concept had great success. A sequel, Raggedy Andy Stories (1920), introduced the character of her brother, Raggedy Andy.
Excerpt:
One day the dolls were left all to themselves.
Their little mistress had placed them all around the room and told them to be nice children while she was away.
And there they sat and never even so much as wiggled a finger, until their mistress had left the room.
Then the soldier dolly turned his head and solemnly winked at Raggedy Ann.
And when the front gate clicked and the dollies knew they were alone in the house, they all scrambled to their feet.
"Now let's have a good time!" cried the tin soldier. "Let's all go in search of something to eat!"
"Yes! Let's all go in search of something to eat!" cried all the other dollies.
"When Mistress had me out playing with her this morning," said Raggedy Ann, "she carried me by a door near the back of the house and I smelled something which smelled as if it would taste delicious!"
"Then you lead the way, Raggedy Ann!" cried the French dolly.
"I think it would be a good plan to elect Raggedy Ann as our leader on this expedition!" said the Indian doll.
At this all the other dolls clapped their hands together and shouted, "Hurrah! Raggedy Ann will be our leader."
So Raggedy Ann, very proud indeed to have the confidence and love of all the other dollies, said that she would be very glad to be their leader.
"Follow me!" she cried as her wobbly legs carried her across the floor at a lively pace.
The other dollies followed, racing about the house until they came to the pantry door. "This is the place!" cried Raggedy Ann, and sure enough, all the dollies smelled
For a simplified version of this book, with comprehension questions and glossary see: https://freekidsbooks.org/raggedy-ann-stories/
To continue reading  the book online: https://freekidsbooks.org/raggedy-ann-stories-read-online-text/
Raggedy Ann Related Books 
Raggedy Ann Stories, abridged and adapted from the original, contains 13 short stories about the classic rag doll and her friends. The text is from the US government English language department and is accompanied a picture glossary, and questions to aid comprehension. The language has been simplified for high-beginning level English language learners (with vocabulary at the first 1000-word level) appropriate for young learners. Illustrations are included in black and white.