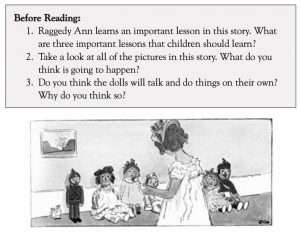 Raggedy Ann Stories, abridged and adapted from the original, contains 13 short stories about the classic rag doll and her friends. The text is from the US government English language department and is accompanied a picture glossary, and questions to aid comprehension. The language has been simplified for high-beginning level English language learners (with vocabulary at the first 1000-word level) and is appropriate for young learners. Illustrations are included in black and white.
Sample Text from the Book
( full text from story 1: Raggedy Ann Learns A Lesson):
Before Reading:
In this story, Marcella will find something special. Do you have something you found? What is it? Where did you find it?
Where is Marcella in the rest picture? What can you see in the room?
What do you think Marcella will find in this room?
Marcella liked to visit her Grandma's old house. When she was at her Grandma's house, she played up in the attic. Marcella found many old toys and things there.
One day, Marcella was up in the attic as usual. She was tired because she was playing for a long time, so she sat down to rest.
She looked around and saw a box in the back of the room. "What could be in that box over there?" she thought. She stood up and climbed over some old chairs and tables. Finally, she got to the box.
She opened it, but it was too dark to see. Marcella brought the box over to the window where she could see better in the sunshine.
She found a little white hat and put it on her head. In an old bag, she found some dolls wearing old clothes. And there was a picture of a very pretty little girl with long hair. Then Marcella pulled out an old
rag doll with only one button eye, a painted nose, and a smiling mouth. Her dress was made out of soft cloth. It was blue with pretty little flowers all over it.
Marcella was so happy. She picked up the rag doll and ran down- stairs to show it to her Grandma.
"Well! Well! Where did you nd her?" Grandma asked. "It's old Rag- gedy Ann!" Grandma gave the doll a hug. "I forgot about her. She has been in the attic for fty years! Well! Well! Dear old Raggedy Ann! She needs her other eye right away!"
Marcella watched Grandma sew the button on Raggedy Ann. Grandma told Marcella how she played with Raggedy Ann when she was a little girl.
"Now," Grandma laughed, "Raggedy Ann, you have two new button eyes. Now you can see the changes in the world! And, Raggedy Ann, you have a new friend. I hope you and Marcella will have as much hap- piness together as you and I did!"
Then Grandma gave Raggedy Ann to Marcella. She said, "Marcella, this is my very good friend, Raggedy Ann. Raggedy, this is my grand- daughter, Marcella!" And Grandma helped Raggedy Ann shake Mar- cella's hand.
"Oh, Grandma! Thank you so much!" Marcella said as she gave Grandma a hug and kiss. "Raggedy Ann and I will have so much fun." And that was how Raggedy Ann became part of the doll family at
Marcella's house. This book is about Raggedy Ann's stories.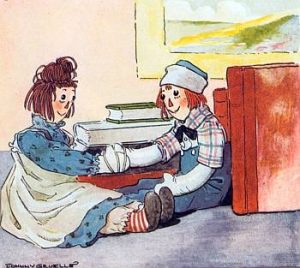 After Reading:
Who is Raggedy Ann? What does Raggedy Ann look like?
What was Raggedy Ann missing?
You are a grandparent. You want to share something from your childhood with your grandchild. What would you give him or her?
Raggedy Ann is a character created by American writer Johnny Gruelle (1880–1938) in a series of books he wrote and illustrated for young children. Raggedy Ann is a rag doll with red yarn for hair and has a triangle nose. Johnny Gruelle received US Patent D47789 for his Raggedy Ann doll on September 7, 1915. The character was created in 1915 as a doll, and was introduced to the public in the 1918 book Raggedy Ann Stories. When a doll was marketed with the book, the concept had great success. A sequel, Raggedy Andy Stories (1920), introduced the character of her brother, Raggedy Andy.
See the original Raggedy Ann Stories with colour illustrations here: https://freekidsbooks.org/raggedy-ann-original-text-pictures/