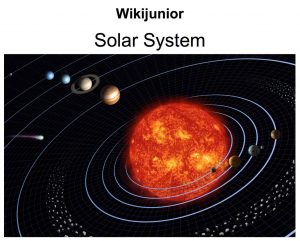 Solar system Wikijunior ebook is a text book on the solar system for upper elementary and middle school, this book has tons of facts on the solar system presented in an appealing way, easy for children to understand.
The Solar System Wikijunior book is a creative commons book, so all text can be reused and republished, providing the resulting work is released in the same way.
See more books like this in our Science category.
See more Wikibooks here at FKB in our Wikibooks category.
See more books about Space in our Space category.
Sample Text from the Solar System Wikijunior book
Introduction
This is a project of Wikijunior, a collection of free books written especially for kids to learn about science and nature. Many people have been involved with writing this book. This project is hosted on Wikibooks, and you are encouraged to help participate with writing and editing these books.
What This Book Will Cover
There are several short articles that will cover each of the planets and many other bodies of the Solar System. Information that will be interesting to kids will be discussed. In addition, some general topics will be added that aren't specifically about an individual planet or moon of the Solar System.
Solar System
People have been watching the sky for thousands of years and wondered exactly what is out there. With advances in telescopes as well as spaceships which have physically traveled to various planets, a considerable amount of knowledge has been obtained to better understand the universe near to us.
The name of our system comes from the old latin word for the Sun: Sol. Because the Sun is the largest object in the system and all the other bodies orbit around it, it became known as the Solar system.
What is the Solar System?
At the center of the Solar System is the Sun. This is but one of billions of stars in the sky, but is important to us as it gives us warmth and energy for us to use. There are many worlds that are near the Sun, each of them are as different as you can possibly imagine. All of these worlds that either orbit the Sun or orbit a planet going around the Sun make up what we call the Solar System. As you read each of the sections about these different worlds, we will explore the differences between all of these worlds, and hopefully you will understand how unique and special the Earth is as well.
<End of sample text>
Select "download pdf" or "read online" to continue reading the full text of this Wikijunior Solar System ebook.
If you want to find more books about Science topics check out our Science category.
Siyavula provides an amazingly comprehensive, beautifully presented set of free maths and science textbooks, based on the South African school syllabus. The maths and science textbooks contain around 500+ pages, and cover all learning content for each year, with worked examples, practice questions, sample papers, linked videos, and many books also provide a separate teacher …
In Sailing Ships and Sinking Spoons – lessons in buoyancy, Tenzin and Tashi, two young Tibetan monks, and Genla, the beloved storyteller of the monastery, wonder why a small steel spoon sinks in water but a huge ship floats. Their science teacher Miss Sonam helps them experiment with an apple, a spoon and a tub-full …
Physics is a little book with lots of big facts about physics. This book covers the basic principles of physics and makes a nice introduction to physics for early grades in science disciplines, and a good lead into school projects by introducing some of the facts of physics. Sample Text from Physics What is Physics? …
An amusing tale that helps us find out where metal comes from. This is another royalty free work from Tony J Moon.

Space Puzzles Book 1 – fun activities for kids from NASA
A space puzzles book for children interested in space. This activity book contains interesting facts about space flight along with activities to match.
The book includes a maths puzzle, unscramble national parks, find words, match parts of the space station, and spot the difference.
---
Sponsored Links:
Note – if you sign up through these links, it doesn't cost you any extra, but FKB receives a small donation, which helps us move towards our aim of
FREE Hardcopies!  
All our posts are checked by Grammarly, the FREE online grammar checker (We still receive a donation even if you only sign up for the free account :-):


This site is hosted by Bluehost:

Leave a comment (it won't be public) if you want help getting your own website cost-effectively.