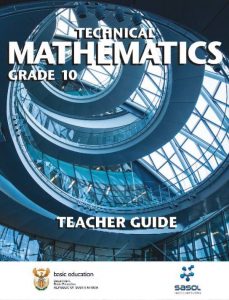 The following are open textbooks for technical maths (engineering maths or applied maths). These technical maths textbooks relate to a Grade 10 level and are aligned with study requirements in South Africa.
These subjects are perfect for students wishing to pursue engineering or trade disciplines.
Technical Mathematics Grade 10 Student Textbook – pdf
Technical Mathematics Grade 10 Teacher's Guide – pdf
See also our Grade 10 Technical Science (Applied Science) textbooks from Uquqonda.
And see more books on technology science, suitable for engineering and trade students, from Ukuqonda here:
Uquqonda Technology Middle School Textbooks for Grades 7 to 9
These open textbooks are contributed in creative commons CC-BY-NC by Ukuqonda foundation, sponsored by the Department of Basic Education South Africa and Sasol.
See more maths books in our maths category below: