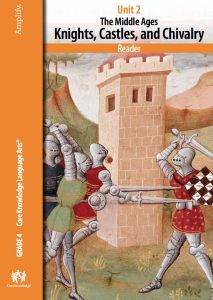 The Middle Ages is a reader designed for Grade 4 from the Core Knowledge Foundation. The reader has complex vocabulary designed to prepare students for the increased demands of later grades, focusses on Western Europe in the middle ages, or medieval times.
This resource is available with a teacher guide and activity book, at the core knowledge website, here: https://www.coreknowledge.org/free-resource/ckla-unit-2-middle-ages/ 
Sample Text from The Middle Ages
Contents
Welcome to the Middle Ages 2
To the Manor Born 10
Gloomy Castles and Jousting Knights 18
Merchants, Markets, and Mud: Towns in the Middle Ages 28
The Power of the Church 38
1066: The Battle that Changed History 48
Henry II and Law and Order 58
The Wayward King: King John and Magna Carta 68
A Changing World 78
Selections for enrichment
The Canterbury Tales: Selection I 88
The Canterbury Tales: Selection II 96 105
Chapter 1 Welcome to the Middle Ages
If you know anything about knights, castles, or Robin Hood, then you already know something about the Middle Ages in Europe. The Middle Ages may seem to be an unusual name for a historical period— especially one that lasted for more than 1,000 years. People in the Middle Ages did not know they were in the middle of anything. They thought they were modern—just as you and
I do today. In fact, the Middle Ages was not a phrase used by the people who lived during that time period. It is a term modern historians use today to refer to that time period between ancient and modern times.
<End of Sample>
Read the full illustrated book on the buttons below the post.
This is another great book from Core Knowledge Foundation, enjoy more of these books below: