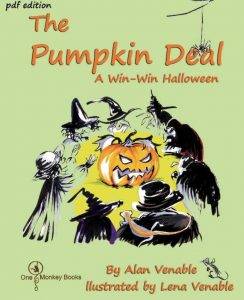 In this playful, surprising tale, a savvy young witch keeps her own interests in mind as she negotiates with a scarecrow who owns some pumpkins that the witch and her cronies want to carve on Halloween.  A win-win deal depends on her finding out what the reticent pumpkin really wants in exchange.  Based on grownup, win-win research!  Stimulating language. Ideal for grades 2-4.  Includes teaching suggestions.
Quotes about this book:
"… a delightfully unique overlay of plot, invention, and moral. The story teaches kids about cooperation, creative problem-solving, intention, and ultimately, the meaning of a 'pumpkin deal' that changes everything. … unpredictable twists set the book apart from the staid progression of the usual Halloween adventure for picture book readers. The art – like the text – is   intriguing to adult readers, as well."
– Diane Donovan, Children's Bookwatch
Sample Text from The Pumpkin Deal
In an end-of-October sunset they swarmed
Down from the sky on their rakes and brooms.
Of course, you know what nightfall I mean,
The dreaded eve called HALLOWEEN!
Witches and wizards! the boss wizard yelled,
What nasty tricks shall we play tonight,
To fill our evil hearts with gladness,
By driving other poor creatures to madness?
Oh, this was a squabbling posse of loonies,
Who nattered and nagged at a deafening pitch, And haggled and argued, insulted and taunted.
So most often none of them got what they wanted.
< End of page 2 of 35>
Read the full book by selecting one of the buttons below the post.
Read more Halloween books in our Halloween category below