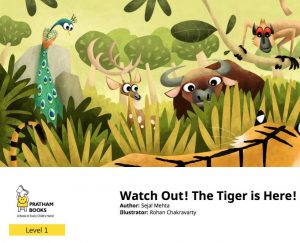 The tiger is a big cat, and he needs to hunt often, but why does everyone know he is here? Find out in Watch Out the Tiger is Here, a short beautifully illustrated picturebook for young children about a tiger.
This book is a creative commons book brought to us by Pratham and Storyweaver. The book is free to share! Please enjoy and share with everyone with young children who also love tigers.
Text from Watch Out the Tiger is Here – Picture book for young children about tigers
It's not easy being a tiger.
Yes, tigers are beautiful and fierce.
But tigers are also big and heavy.
This makes it difficult for them to hunt for food.
Out of every twenty times a tiger hunts, it eats only once.
When a tiger moves through the forest,
KHAU! KHAU! KHAK!
The langur calls, just like an old man coughing!
KHAU! KHAU! KHAK!
AWOOOO! HAWOOOO!
The barking deer calls, like a scared dog!
AWOOOO! HAWOOOO!
OOW! OOW! OOW!
The spotted deer calls, like a little bird!
OOW! OOW! OOW!
The whole forest knows the tiger is here!
AHUUUN? AHUUUN?
The tiger wonders, where has everyone gone?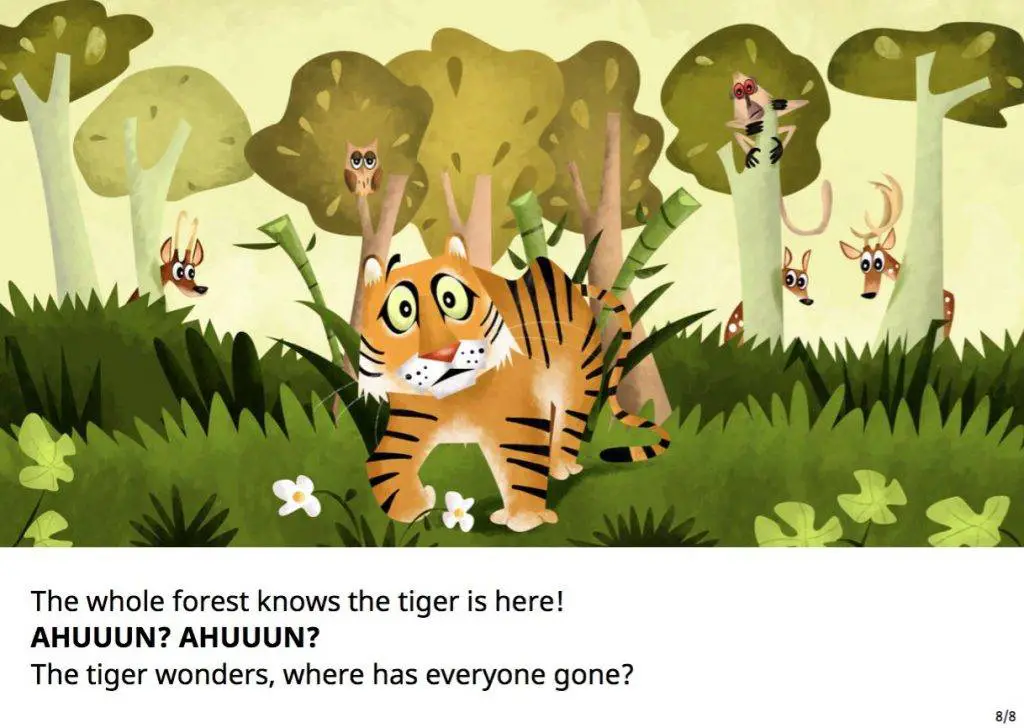 <End of Text from Watch Out the Tiger is here>
Download or read online by selecting the buttons under the post, to read the full picture book for young children about a tiger.
You can also download the epub version of Watch out the Tiger is here.
Or read along with the book here:
If you love big cats, there are lots more books about them here on FKB, see our Cats Category, or our Animals Category,
Or check out these adorable big cat Picturebooks:
Lions are Always Brave is a cute animal story about a little lion, who is strong, fast, stretchy, and br…br….brave?
In the Lion Who Wouldn't Try is a story about trying, we see a story of a lion who is too afraid of failure to attempt anything. All the other animals are having fun, while the lion is moping around. He is too afraid of losing that he never ends up having any fun.
And from the same author and illustrator, this cute big cat book:
This very cute non-fiction book for young children is all about wild cats, from common big cats to more diverse, it also makes a great learning to read age book which can spark some research ideas for homeschool or general interest study.
---
Sponsored Links:
Note – if you sign up through these links, it doesn't cost you any extra, but FKB receives a small donation, which helps us move towards our aim of
FREE Hardcopies!  
All our posts are checked by Grammarly, the FREE online grammar checker (We still receive a donation even if you only sign up for the free account :-):


This site is hosted by Bluehost:

Leave a comment (it won't be public) if you want help getting your own website cost-effectively.