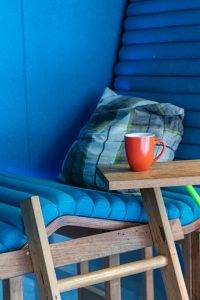 Reading is gaining popularity due to the amount of time we need to spend at home. It has been a growing trend for people of all ages, and people seem to find comfort in the act of reading as well as the stories and content that is read. It's an all-round pleasurable experience that can develop mindfulness and also aid in dreamy fantasy and adventure.
Reading is thus a great hobby and time filler to encourage, whether it's the old school pages, comics, graphic novels, or tablets and the kindle. The idea is to create familiarity and a love for the written word. Yes, audiobooks have gained popularity, but in America, print books still remain the most popular format for reading. 
While reading can be done pretty much anywhere, finding a comfortable, conducive, and relaxing space to really focus on the word and stories is a growing trend. The spaces and nooks that have traditionally been used include window seats, attics, basements, converted garden sheds, and more. Here are some ideas for ensuring your reading space becomes a much loved and used idyll.
What your reading space needs
Waterproof and weatherproof
An attic or outside reading room needs to be comfortable, and the first place to start is with the exterior cladding and protection. These all need to have the right type of insulation, and waterproofing siding companies in Michigan provide some great ideas for works like these. If it's sealed on the outside, then you are likely not to have problems with the weather and leaks.
Lighting
It seems an obvious thing, but many people have made a cozy reading nook either inside the home or in an external room, and it may be cozy and warm, but without the proper lighting, reading is more difficult than it needs to be and can cause eye damage.
Electrics or solar kettle
There's nothing worse than getting into a great book and then having to leave the space to make a cup of tea or coffee. Having the electrical capabilities to charge a mobile device, plug in the laptop, or make warm drinks is essential for a good reading nook. Just ensure that if it is a kids' area, the electrics and any appliances are placed and stored safely and only used under supervision.
Heating/cooling
Cozy has been mentioned a number of times, and the simplest reason for this is that reading creates that connotation, and once engrossed in a story or a book, there is no other way to be but cozy. So, make sure that it is weather-friendly, able to be warmed in winter, and cooled in summer.
Keep in mind that if it's an exterior space that you are using, have the right planning and building permissions in place as you do not want to spend all this money and then have to take the structure down.
Reading is proven to aid young brain development and is one of the best skills to teach and practice. If it's a hobby, then it may be time to take it to the next level, go mainstream and ensure that you and yours have the reading spaces you deserve in your home.