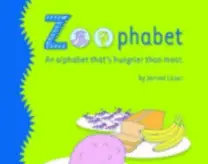 Alice admires African ants. Bernard goes bonkers for banana bread. Coco is crazy about cotton candy… Each letter-shaped animal has its own idea of what makes a good snack. Kids may think some of their choices sound really yummy and that others are just plain disgusting (- which is just as entertaining!) Either way, learning about the Zoophabet characters' favourite foods is a great way to add a little life to learning the alphabet, and the alliteration is a fun touch for young children learning phonics.
Author: Janine Lazur
Exert: This is Alice. Alice admires (and then eats) African ants. <End of Page 2>
About the Author: Janine works as an advertising art director. She started the Zoopha characters,a side project, as hand-drawn/hand-painted animal alphabet names to give as gifts when family or friends had a new baby. This grew into two full books about the alphabeasties. Her initial distribution method is giving away the e-versions of my books to help develop the series and find ways to use the Zoopha characters for education, please pass on this link on to other parents, friends or teachers.