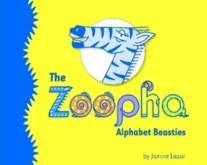 Meet and colour the entire Zoophabet. From Abe and Alice to Zinnia and Zed, these letter-shaped animals will intrigue… children already familiar with the alphabet and can aid in teaching the upper and lowercase letter pairs to those still learning it.
Author: Janine Lazur
Exert: Abe, Alice, Bernard, Babette…(upper and lower case letter names)
About the Author: Janine works as an advertising art director. She started the Zoopha characters, a side project, as hand-drawn/hand-painted animal alphabet names to give as gifts when family or friends had a new baby. This grew into two full books about the alphabeasties. Her initial distribution method is giving away the e-versions of my books to help develop the series and find ways to use the Zoopha characters for education, please pass on this link on to other parents, friends or teachers.