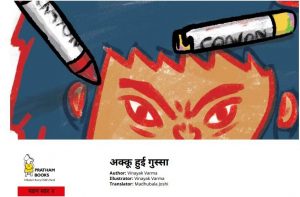 अक्कू हुई गुस्सा – Angry Akku Hindi – Akku is angry and she will not tell her father why. Cheering her up is also not that easy. What could have made Akku angry? Was it something her Papa had said? Was it something her Mother had done? Find out and read the book using the links below. A lovely story about handling emotions for children.
Author: Vinayak Varma Illustrator: Vinayak Varma
Text and Images from अक्कू हुई गुस्सा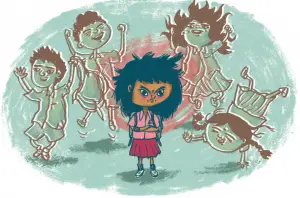 कूल क घंटबजी। छु क घंट। सारेबचेखुशी सेशोर मचानेलगे।
बस अकूको छोड़ कर। वो बत ग़सेमथी।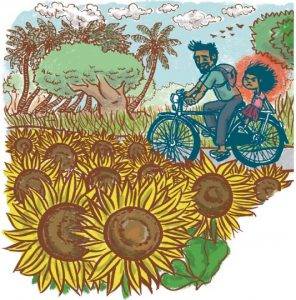 जब सूरजमुखी के खेत& म'सेउनक
साइ*कल गुज़री तो अ,पा नेकहा,
"अकू! अकू! देखो *कतनेसुंदर
सूरजमुखी केफूल ह!"
"उँह! येब7त ही पीलेह! इनसेमेरी
आँख'च9:धया रही ह।"अकू
बड़बड़ाई।
<end of sample>
Read the full book by selecting one of the buttons below the post.
अक्कू हुई गुस्सा English version below:
Read the English version on the above link.
See more Hindi stories below