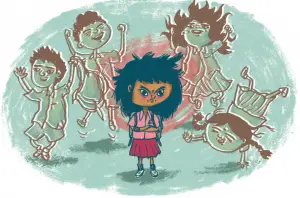 Angry Akku is a delightful children's story all about handling anger. Akku is angry, she had a really bad day at school. Her father suggests she draw about what happened. At the end of the book there's a list of ideas for handling anger. This book makes a great example for children about how to handle a bad day and what to do when they feel angry.
Another great free book from Storyweaver and Pratham.
Sample text from Angry Akku – Children's Story about Handling Emotions
When the last school bell rang, all the children laughed and screamed with joy. All, except Akku. Akku was ANGRY!
"Akku! Akku! Look at the pretty sunflowers!" said Appa, as they rode through a field.
"GRRMPH! They're TOO YELLOW! They're making my eyes hurt!" said Akku.
<End of page 2>

10 Things to Do If You Feel ANGRY like Akku:
1. Laugh loudly and jump around with your arms in the air!
2. Slowly – very, very slowly – breathe in, and breathe out!
3. Drink some water! Or buttermilk!
4. Eat a piece of fruit! Or a vada!
5. Tell a grown-up about how you're feeling!
6. Write about how you're feeling!
7. Draw it out! Paint it!
8. Play with a pile of clay!
9. Make up a song about your anger! Sing it aloud! 10. Dance like a monkey!
If you liked this book you might also like to view some of the books in our Emotions category
Save
Save
Save
Save