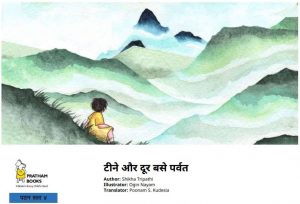 टीने और दूर बसे पर्वत – Tine and the Faraway Mountain Hindi Tine a girl from Mishimi hills of Arunachal Pradesh ever since a child she loved running and climbing trees. She often hears the mountain calling to her. When she grew up the passion inside her has also grow to the point where she would do anything to pursue her dreams and became the very first woman who has climbed Everest.
Author: Shikha Tripathi Illustrator: Ogin Nayam
Text and Images from टीने और दूर बसे पर्वत
"मनेअपनेडर सेआज़ाद पा ली थी, मुझेना तो मानदंड का डर था, ना ही समाज का।
मन तो असफलता सेडरती थी, न ही मृ!युसे। मुझेअपनी ताक़त पर पूरा व'स था
और मनेअपनी क़दरती तभा को जमकर माँजा। अपनी कमज़ो-रय को .र कया
और सबसेज़री बात यह क मनेहमेशा अपनी सुनी"
—टनेमेना, पवतारोही।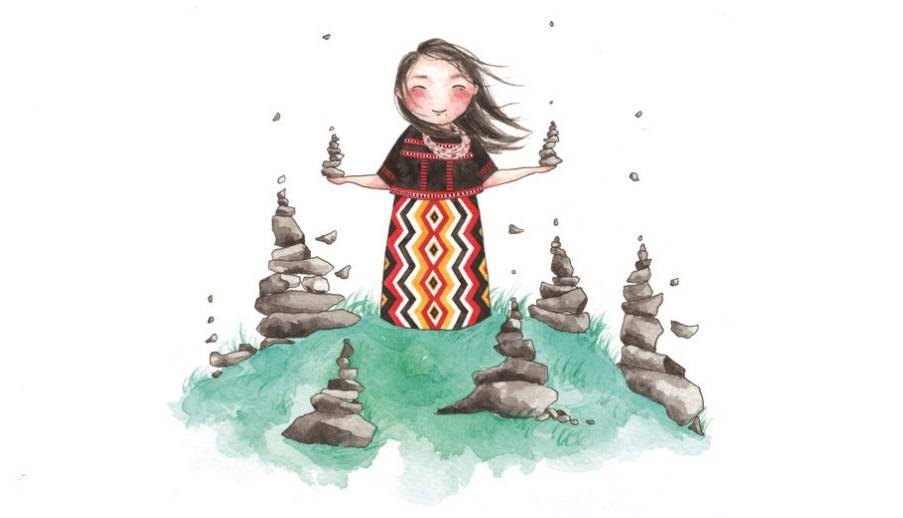 आज का दन टनेमेना के लए बत मह:वपूणहै।
२५ साल क? टन, उर पूव भारत क? पहली ऐसी महला ह
जEहनेएवरेFट क? चढ़ाई क। माउंट एवरेFट नया क
सबसेऊँची चोट हैऔर इसक? ऊँचाई है८,८४८ मीटर।
यानी अगर ६ फुट लंबे५००० लोग को एक के ऊपर एक
खड़ा कया जाय, उतना ऊँचा!
तो यह कहानी हैटनेकेसंघष5क –
जसेपहाड़ पर चढ़ना ब9त पसंद है।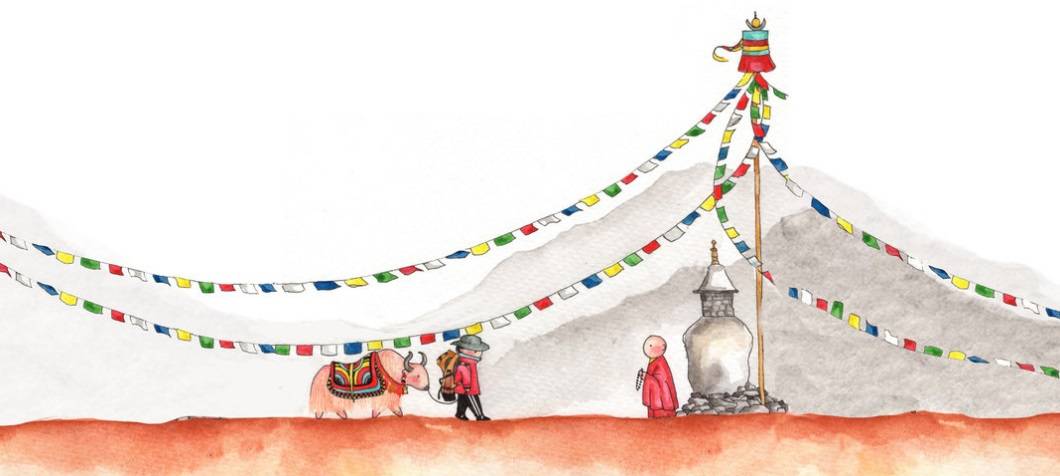 वूश,वूश!
अXणाचल देश क Yमशमी पहाYड़य मरहनेवाली टनेने.र पहाड़ सेआती यह अत आवाज़ सुनी और उस आवाज़ क तरफ़ खची चली गयी – यह आवाज़ 7सफ़5 उसको सुनाई देती थी।

<end of sample>
Read the full book by selecting one of the buttons below the post.
टीने और दूर बसे पर्वत English version below:
Children's biography, A story of determination
Read this book in English on the above link.
See more Hindi Stories below