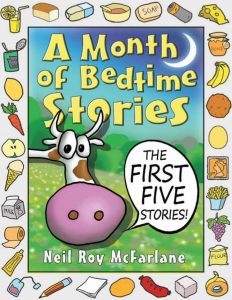 5 Fun Bedtime Stories contains five amazing adventures. In each adventure, the centre of the story is the listener, and mysteriously for a host of reasons, the listener has forgotten, so the reader reminds them of everything that happened during the day. From aliens to submarines, underground adventures to pirates this book has it all. These stories are immensely fun to read to a child, with fun words such as globbleplop, quantum techno poppadums, and cockney pirate accents to entertain, along with fun things to laugh at like cows who think they are monkeys? And are eggs really from eggplants? Would a chicken know? This story is bound to make for many giggles for young children at bedtime.
Download the pdf of 5 Fun Bedtime Stories or see the flipbook to read online by selecting the buttons below this post.
This book is also available in an epub version.
This is the first five fun bedtime stories from 31 altogether in A Month of Bedtime Stories, available on amazon and Smashwords. The author currently has 52 these "And off you went to the woods" stories and a whole lot of other fun books, soft copies of which can be purchased for a very small fee online. See all of Neil's books here, Neil Roy McFarlane on Amazon, and here Neil roy McFarlane on Smashwords.
See more free children's stories from Neil Roy McFarlane in his category here on FKB- https://freekidsbooks.org/author/neil-roy-mcfarlane/
See more stories collections in our Stories Collections Category.
If you like humour, check out our Humour Category.
If you enjoy adventure fantasy books, you might also enjoy these very similar books:
Bunnies from the Future is an action packed, and incredibly hilarious, middle-grade science fiction. With battles to save the earth and flying lessons combined with cute bunnies and heart warming talking plants, the story that has something for everyone.
Sugar the Robot and The Race To Save Earth is a wonderful early science fiction book. Tim is mad about robots. He even has robot underwear. He dreams of one day having his own robot – and he'd be a good, kind robot too! But that's likely only possible when he grows up and goes to university, he's only ten, right?
---
Sponsored Links:
Note – if you sign up through these links, it doesn't cost you any extra, but FKB receives a small donation, which helps us move towards our aim of
FREE Hardcopies!  
All our posts are checked by Grammarly, the FREE online grammar checker (We still receive a donation even if you only sign up for the free account :-):


This site is hosted by Bluehost:

Leave a comment (it won't be public) if you want help getting your own website cost-effectively.