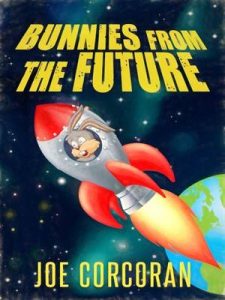 Bunnies from the Future is an action packed, and incredibly hilarious, middle-grade science fiction. With battles to save the earth and flying lessons combined with cute bunnies and heart warming talking plants, the story that has something for everyone.
For Dad's (or Moms) looking for adventure at bedtime, this is for you!  It's time for you to become the hero of your own exciting adventure. This book is another bound to have kids begging for bedtime…
The Bunnies from the Future need your help, and the fate of all mankind depends on your success. An evil force has taken over the world – a force that only you can defeat. It won't be easy. You'll have to learn space swimming, fight killer carrots, outsmart a super computer and make friends with some Giant Redwoods – but don't worry, you'll be back in time to read the bedtime story.
Bunnies from the future is packed with action and adventure, enough to keep any child looking forward to bedtime, but the best thing is that this is a story about how their Daddy saved the world. Just replace a few names, and hey presto, the adventure is yours (see note below)  … although I'm sure you'll be too modest to take all the credit.
Sample From The Bunnies From The Future
Instructions to Dads
(FKB Editor: this works equally well for adventure loving Mums)
This is not part of the story – don't read this bit aloud!
Although my English teachers always told me never to do so, I've written this story in the first person. This is so you – yes you, dad – can pretend that it is your story. You should read this to your child(ren) as if it really did happen to you. To make it work, you'll need to replace some words. I've highlighted these in the text and enclosed them with asterisks.
In the Prologue, replace *Corcoran* with your own surname.
In chapter 5, replace *Fairfield Road* with the name of your own street.
In the last chapter, right at the end, replace *Toby* with the name of your own child(ren).
One last thing, if you are asked if any of this really happened, you must say that it is just a story. This will make sense if you read the end of the last chapter.
Have fun!
Prologue
Do you remember the first time I met the Bunnies from the Future? I would be surprised if you did. You were quite a bit younger then than you are now, but I distinctly remember telling you about it on the very day that it happened.
That day started with a misty morning, and I'd left the house early. I can't remember why I was up and about so early, but it involved running an errand of some sort. In any case, when I got outside it still wasn't fully light. I couldn't see very far in front of me, and the mist robbed everything of its colours, so that the world seemed very grey and drab. The overall effect was that even the most familiar places seemed strange. I didn't know it yet, but it was going to be a strange morning all round.
The first sign that there was something unusual going on was as I came out onto the pavement. Sat on top of a nearby wall, above some bins, was the grey figure of something small and furry. That's sad, I thought, looks like someone's lost their teddy bear. I turned to check for traffic, and behind me, there was a squeak and a thud and a rustle of paper. When I turned back the figure on the wall was gone. Teddy bears don't move on their own, so I was puzzled for a moment. Then I realised that it must have been some sort of animal, come to scavenge in the bins. I'm sure you would have been more curious, but I just shrugged and walked on. I did notice, as I passed, a little fluffy tail poking out of a pile of paper in one of the bins, but I was in too much of a hurry to investigate. I walked on at a brisk and purposeful pace. I did think, a couple of times, that I heard someone calling my name, but when I looked round, I couldn't see anyone, so I assumed it was just the wind.
By now I was walking along the main road, and something made me look up. There, above my head, was a hang-glider. It was flying low enough so that I could clearly see the pilot was a rabbit. Not a normal rabbit, either. This rabbit was wearing a leather flying cap – with holes cut out for his ears – flying goggles and a long, white, silk scarf that billowed out behind him.
Strange, I remember thinking to myself.
<End of Page 1>
About the Author
Joe Corcoran was born in Sheffield, grew up in Manchester, was educated in Cambridge and now works in London. He is a devoted husband to Mickey and proud father of Toby, who is the patient recipient of many stories in the making. They live in a nice little house in Twickenham, home of English rugby and match day traffic congestion. Together, Joe and Toby wage an eternal battle against urban foxes – especially their droppings.
The income from his writing being negative, Joe pays the rent by working for a big multi-national. He is an expert in supply chain, which is the art of getting the things that people want to sell to the place where people want to buy them, and he travels the world dispensing advice on the subject. When he is not travelling, Joe works in an office in central London. He commutes every day by train, which provides his main opportunity for writing stories.
Check Out More Chapter Books:
See more Science Fiction books below
---
Sponsored Links:
Note – if you sign up through these links, it doesn't cost you any extra, but FKB receives a small donation, which helps us with our project to buy more FREE Hardcopies   for kids who need them

All our posts are checked by Grammarly, the FREE online grammar checker (We still receive a donation even if you only sign up for the free account :-):