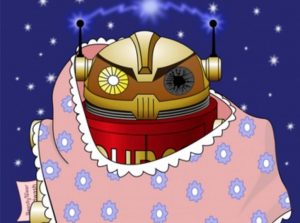 Sugar the Robot and The Race To Save Earth is a wonderful early science fiction book.
Tim is mad about robots. He even has robot underwear. He dreams of one day having his own robot – and he'd be a good, kind robot too! But that's likely only possible when he grows up and goes to university, he's only ten, right? When Tim fixes the toy robot his grandad gives him, his dream may come true early, along with an exciting adventure, and a race to save the planet, somehow mixed up with some lost laundry.
This hilarious early chapter book is perfect for reading to children as a to be continued bedtime story over a period of time, or reading by older children who are fluent readers.
Sample Text From Sugar the Robot



Do you have hobbies? Many people do.
I do.
For some it's computer games or wrestling or collecting things like stickers or stamps. Some people's hobbies become their whole life and some of them are just, well, hobbies and some of them are very, very weird. I discovered the other day that some people hold competitions for mooing like a cow and
there are people who make their dogs look like tigers. Some people lie down in public places and put a photo of it on-line. That's it. They don't do anything else, they just lie down. I don't mean they lie down in a pattern or wear some silly outfit, they just lie down. I guess in the end hobbies are like people – they're all different and not everyone will find yours interesting. I'm pretty certain not everyone finds my hobby interesting but that's fine with me.
I like robots.
<End of Page 1, Chapter 1>
About the Author
"I hope you enjoyed this story. I have enjoyed writing it." Says Ryan.
The Cartwright family loves stories, whether it is reading them, watching them or making them up. On one of the times they were making up stories Ryan came up with a story about a toy robot who fell out of a window and got stuck in some knickers. After a lot of laughing and some retelling it formed the beginning of this story.
Ryan Cartwright is a web developer and cartoonist who loves stories. He lives in the UK with his wife, two children, nutty dog, and tyrannical cat. He has a weakness for wine gums.
Check Out More Chapter Books:
See more Science Fiction books below
See more books by Ryan Cartwright below
---
Sponsored Links:
Note – if you sign up through these links, it doesn't cost you any extra, but FKB receives a small donation, which helps us with our project to buy more FREE Hardcopies   for kids who need them

All our posts are checked by Grammarly, the FREE online grammar checker (We still receive a donation even if you only sign up for the free account :-):