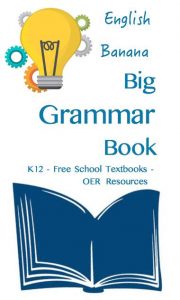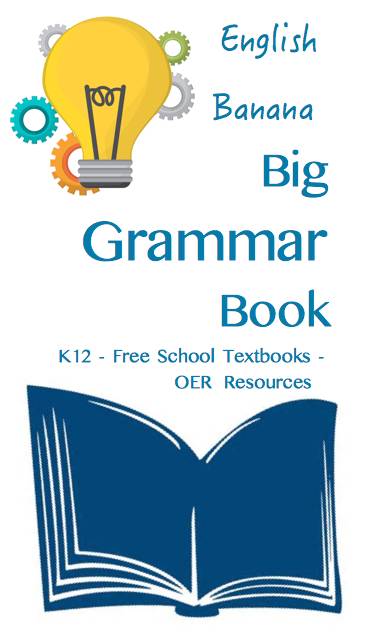 The Big Grammar book which is brought to us by Banana English is a bumper book of ESL printables and beginner English worksheets. Suitable for grades 1 to 3 and for beginner ESL learners, the book covers common tenses and words along with may other topics and includes answers.
This book is also available in an editable format, and the author Matt Purland has generously made these resources available in the public domain so you are free to use them pretty much any way you choose.
You can thank the creator Matt Purland, an English Teacher and purveyor of many free English resources by visiting https://www.englishbanana.com or Matt's other site https://purlandtraining.com/ which also has tons of free ESL printables.
This amazing resource has been downloaded over a million times on English Banana.com!
Download the full Big Grammar Book in pdf version or read the flipbook of this book full of worksheets online by selecting the green tabs (download pdf or read online) below the post.
Download here the Editable Version of The Big Grammar Book.
English Banana.com's Big Grammar Book Contents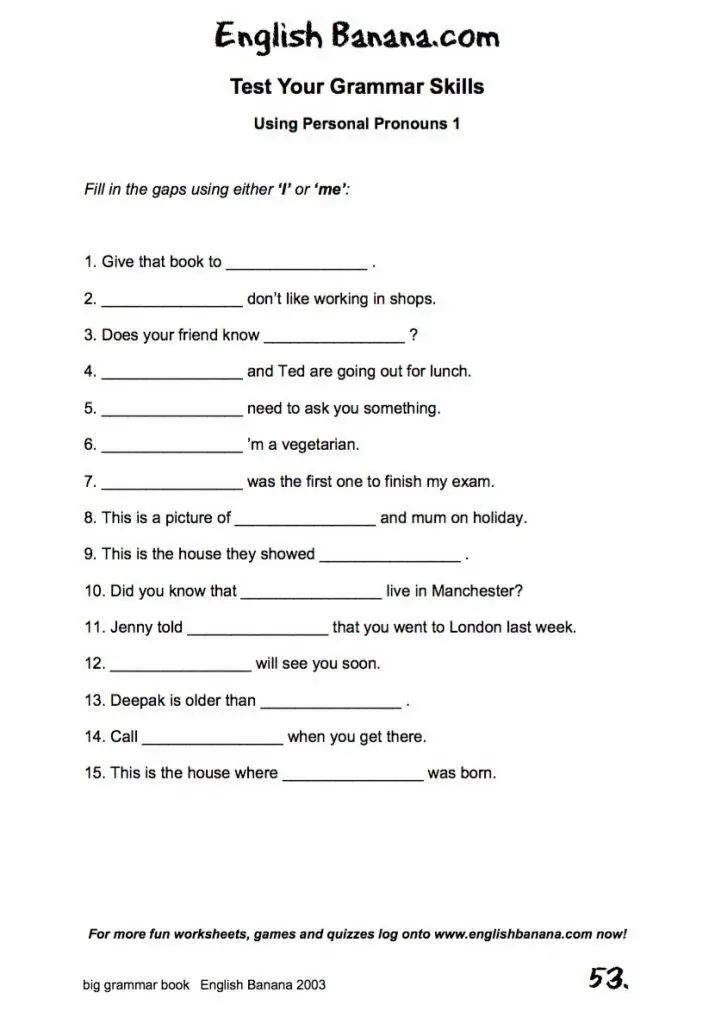 Part One
1. The English Alphabet
2. Writing the Alphabet 1
3. Writing the Alphabet 2
4. Personal Details – Completing Forms
5. Basic English Written Test
6. Essential Spellings
7. Vocabulary Test (blank copy)
8. Just Vowels – Days, Months and Seasons 1
9. Just Vowels – Days, Months and Seasons 2
10. Days of the Week
11. Months of the Year
12. Understanding Dates 1
13. Understanding Dates 2
14. Common Irregular Verbs – Present Simple Tense
15. Common Irregular Verbs – Past Simple Tense
16. Common Irregular Verbs – Present Continuous Tense
17. Using Capital Letters 1
18. Using Capital Letters 2
19. Basic Sentence Punctuation 1
20. Basic Sentence Punctuation 2
21. Question Forms Using Verb 'to be' (Present Simple Tense) 1
22. Question Forms Using Verb 'to be' (Present Simple Tense) 2
23. Question Forms Using Verb 'to be' (Present Simple Tense) 3
24. Question Forms Using Verb 'to do' as an Auxiliary Verb (Present Simple Tense) 1
25. Question Forms Using Verb 'to do' as an Auxiliary Verb (Present Simple Tense) 2
26. Question Forms Using Verb 'to do' as an Auxiliary Verb (Present Simple Tense) 3
27. Question Forms Using Verb 'to have' as an Auxiliary Verb (Present Perfect Tense) 1
28. Question Forms Using Verb 'to have' as an Auxiliary Verb (Present Perfect Tense) 2
29. Question Forms Using Verb 'to have' as an Auxiliary Verb (Present Perfect Tense) 3
30. Elementary Homophones 1
31. Elementary Homophones 2
Part Two
32. Using Numbers 1
33. Using Numbers 2
34. Using Numbers 3
35. Using Numbers 4
36. Using Numbers 5
37. Working Out Prices 1
38. Working Out Prices 2
39. Ordinals 1 – Months of the Year
40. Ordinals 2 – The Alphabet
41. Opposite Adjectives 1
42. Opposite Adjectives 2
43. Comparatives and Superlatives 1
44. Comparatives and Superlatives 2
45. Comparatives and Superlatives 3
46. Comparatives and Superlatives 4
47. Using Indefinite Articles 1
48. Using Indefinite Articles 2
49. Countable and Uncountable Nouns 1
50. Countable and Uncountable Nouns 2
51. List of Common Uncountable Nouns
Part Three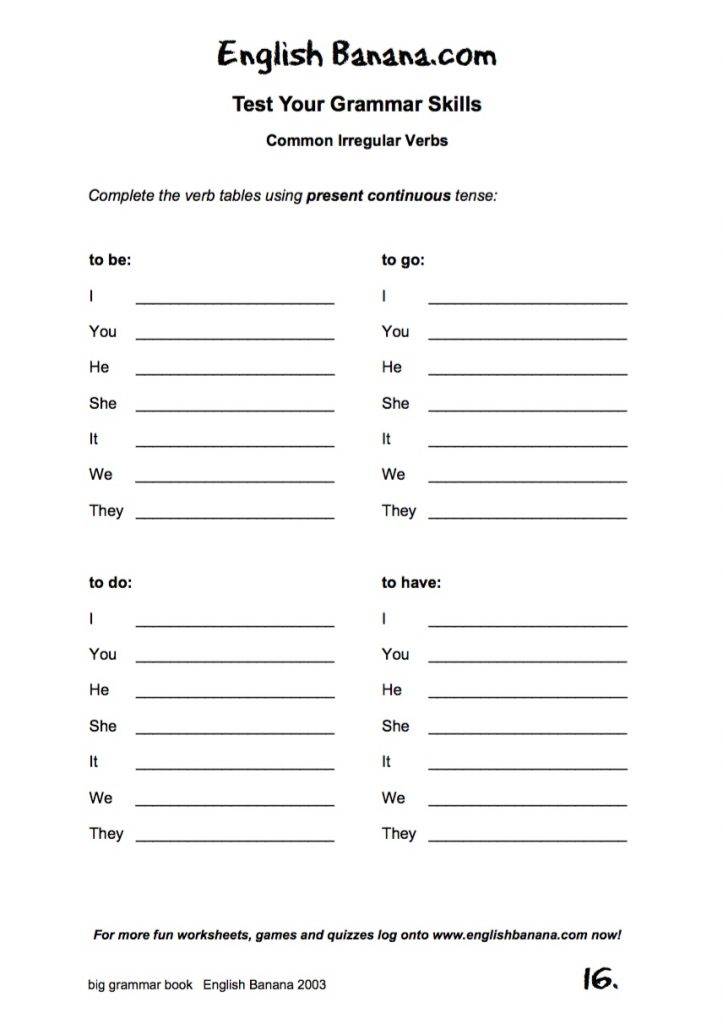 52. Using "There are…" & "There is…"
53. Using Personal Pronouns 1
54. Using Personal Pronouns 2
55. Using Personal Pronouns 3
56. Using Personal Pronouns 4
57. Using Personal Pronouns 5
58. Using Personal Pronouns 6
59. Adverbs of Frequency 1
60. Adverbs of Frequency 2
61. Adverbs of Frequency 3
62. First Conditional 1
63. First Conditional 2
64. 'Wh – ' Questions 1
65. 'Wh – ' Questions 2
66. Compound Nouns 1
67. Compound Nouns 2
68. Compound Nouns 3
69. Daily Routines
70. Complete the Sentences 1
71. Complete the Sentences 2
72. Complete the Sentences 3
73. Complete the Sentences 4
74. Complete the Sentences 5
75. Complete the Sentences 6
76. Sentence Building 1
77. Sentence Building 2
78. The Plays of William Shakespeare
Part Four
79. Full Stops 1
80. Full Stops 2
81. Using Capital Letters 3
82. Using Capital Letters 4
83. Talking about the Past 1
84. Talking about the Past 2
85. Past Events – The Life of Captain James Cook
86. Second Conditional 1
87. Second Conditional 2
88. Third Conditional 1
89. Third Conditional 2
90. Zero Conditional 1
91. Zero Conditional 2
92. Writing Comparisons 1
93. Writing Comparisons 2
94. Homophones 1
95. Homophones 2
96. List of Common Homophones
97. Being Polite
98. Good Advice 1
99. Good Advice 2
100. Good Advice 3
101. Write Your Own Flashcards
102. Answers to worksheets and notes for use
See more of FKB's English textbooks and workbooks below