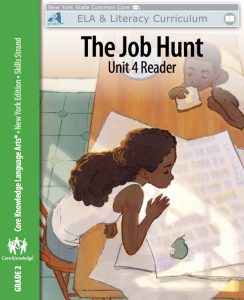 The Job Hunt is an early chapter book, designed to be read in installments for a grade 2 class. This fun fictional story involves a seven year old boy and his older sister who is at college and looking for a job for her summer vacation. The book includes an English worksheet activity book, suitable for Grade 2 level or beginner ESL, and a teachers guide.
The book is designed to be read in installments, with each chapter forming an exercise.
Sample Text From The Job Hunt
It was morning. Kurt Gunter was in the kitchen with his big sister, Kim. Kurt placed some butter on his toast. Kim glanced at the paper and ate some toast.
Kurt was seven. His sister Kim was nineteen. She was home from college for the summer.
"What are you doing?" Kurt asked.
"I'm looking in today's paper at the Job Opening ads," Kim said.
"Why?"
"I need a summer job," Kim explained. "Why do you need a job?"
"So I can make some cash."
"What will you do with your cash?" asked Kurt.
"I'll save most of it," said Kim. "But I'll spend some on things I need, like clothing. And I would like to get a bike."
"You can get a bike if you get a job?"
"Yes."
Kurt sat thinking of how much fun it would be to ride bikes with Kim.
"Cool! So, what sort of job will you get?" Kurt asked.
"I can't tell. That's why I'm looking at the paper."
Kurt ate some toast. Then he asked, "Should I get a job, too?"
Kim smiled. "You are just seven," she said. "You don't need to get a job yet. You should be having fun."
"But I would like one!" Kurt wailed.
"I'll tell you what," Kim said. "You can help me look for a job. If you see a job you like, then you can get that job when you are my age."
<End of sample text from The Job Hunt>
This book is available with a workbook, available here, https://freekidsbooks.org/job-hunt-english-worksheets-activity-book/ and a teachers guide, which you can see on the Engage NY page, here: https://www.engageny.org/resource/grade-2-skills-unit-4-teacher-guide.
Here are some reading comprehension worksheets extracted from the English worksheet activity book associated with The Job Hunt:
The Job Hunt – Brooklyn Reading Comprehension exercise – pdf
The Job Hunt – The Gym Reading Comprehension exercise – pdf
The Job Hunt – The Subway Reading Comprehension exercise – pdf
See more English textbooks and resources below
---
Sponsored Links:
Note – if you sign up through these links, it doesn't cost you any extra, but FKB receives a small donation, which helps us with our project to buy more FREE Hardcopies   for kids who need them

All our posts are checked by Grammarly, the FREE online grammar checker (We still receive a donation even if you only sign up for the free account :-):