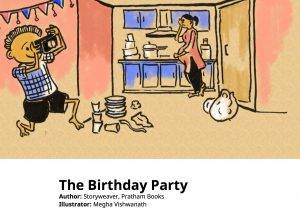 This is a wordless book about a birthday party.
Wordless stories are wonderful because they contain infinite possibilities. Here are a few ideas for engaging with children using visual stories:
– Explore the story in a leisurely manner. Draw attention to the details – the expressions of the characters, setting, colours, etc. The idea is for each child to build her own story. If the story is being shown to a group of children, you could ask each of them to contribute a sentence or two for each illustration. Take joy in exploring each illustration and build the story as you go along.
– Use themes explored in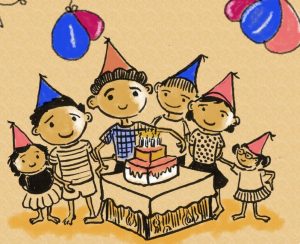 the story to start a discussion. For instance, in this story, you could ask children about what they do for their birthday, or even how they help out at home.
– Encourage children to create 2-3 different stories using the same set of visuals. This will help push their imagination.
This book was made possible by Pratham Books' StoryWeaver platform. Content under Creative Commons licenses can be downloaded, translated and can even be used to create new stories ‐ provided you give appropriate credit, and indicate if changes were made. To know more about this, and the full terms of use and attribution, please visit the following link: https://creativecommons.org/
If you are looking for other wordless books check out our tag wordless.
Sample images from The Birthday Party – A Wordless Book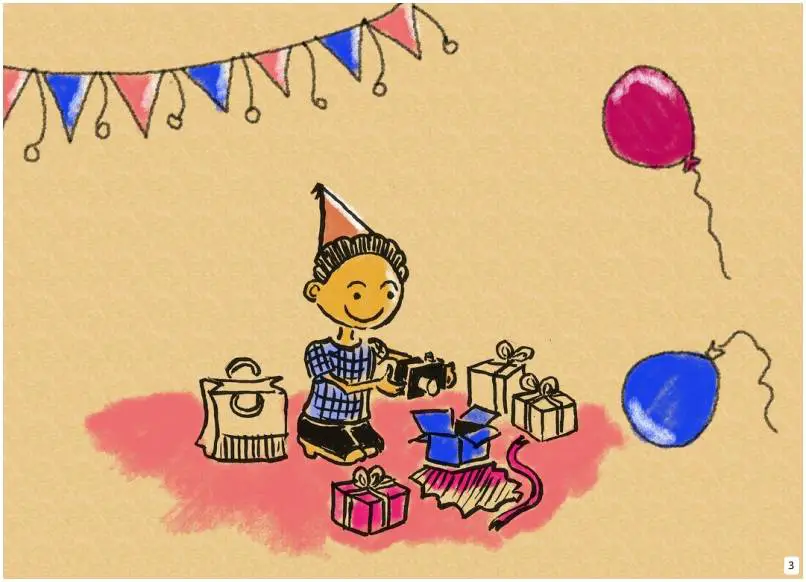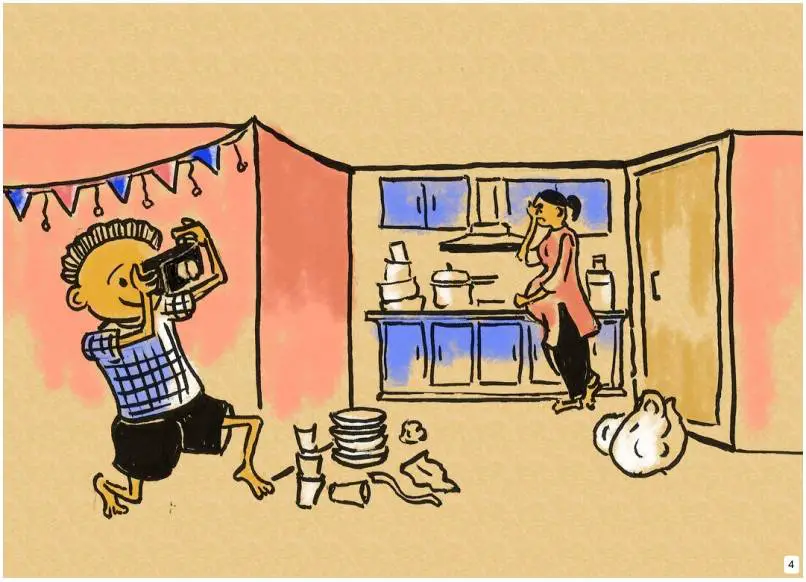 <end of sample>
More Wordless Books:
SpringLoaded What would happen if you invented a helicopter hat, or what about some spring loaded boots? This is a picture book WITHOUT WORDS, a great adventure in creativity for children to make up their own story to go with the images, and perfect for reluctant readers, illustrating that books are about telling a story, and passing on a message, there is much more to it than just words.
See more books by Pratham's Storyweaver
---
Sponsored Links:
Note – if you sign up through these links, it doesn't cost you any extra, but FKB receives a small donation, which helps us with our project to buy more FREE Hardcopies   for kids who need them

All our posts are checked by Grammarly, the FREE online grammar checker (We still receive a donation even if you only sign up for the free account :-):