How About You
is a fun rhyming picture book for young children. It has a total of 72 words, 10 double page spreads, including some wonderful sound effects! Perfect for reading with toddlers.
Another great creative commons book brought to you by Bookdash.
Illustrated by Renate van Rensburg
Written by Margot Bertelsmann
Designed by Ronèll Botes
Excerpt: 
Who are you?
Is that Goo? Eeuw!  I want some too.
<End of page 2>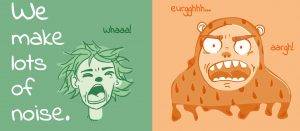 About the creators
Bookdash is a non-profit, driven by the donation of time from talented volunteers. Their aim is to provide good quality books free into the creative commons arena so all children have access to literacy resources. Books are free to be used, shared, modified and published in any way, provided attribution is given and the same license is used.
Read More About Bookdash on our blog here: https://freekidsbooks.org/bookdash-cc-childrens-stories/
More Books From Book Dash
Mrs Penguin's Perfect Palace – The Penguins are trying to build a perfect palace for Mrs Penguin, but something keeps going wrong. Eventually persistence and team work pays off. Another great creative commons book from Book Dash.
Little Ant loved to read! But ants don't read, they feed, or do they? Find out what happens to little ant and his love of reading, in this rhyming and wonderfully illustrated creative commons picture book by BookDash.
SpringLoaded What would happen if you invented a helicopter hat, or what about some spring loaded boots? This is a picture book WITHOUT WORDS, a great adventure in creativity for children to make up their own story to go with the images, and perfect for reluctant readers, illustrating that books are about telling a story, and passing on a message, there is much more to it than just words.
Read More Books From Book Dash Here.