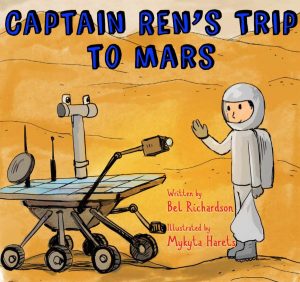 Captain Ren is ready for his first adventure into space, he's off to Mars. He has important work to do on Mars. What will he do while he is there? Will he meet anything on Mars? Get ready for lift off! In this fictional space theme early reader young astronauts can entertain their dreams of space while learning important phonics rules and improving confidence in reading.
Captain Ren's Trip to Mars introduces phonics simple words known to readers (sight-words) alongside sound-out words, and some tricky words which readers can learn. The book is suitable for kindergarteners (reception) and grade 1 students as an early reader.
Some of the tricky words in the book are: the, of, has, to, do, two, spacesuit, so, full, there, ago, curiosity, picture, Earth, past, galaxies, done, used, ready, another
See more of Bookbot's books on FKB in the Bookbot category, or visit the Bookbot website.
Sample Text From Captain Ren's Space Theme Early Reader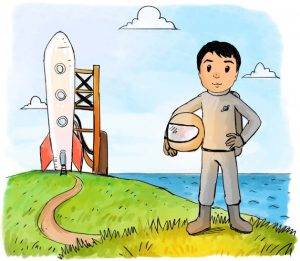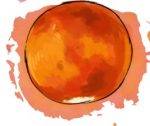 Ren is the captain of a spaceship. He will fly the rocket to Mars.
Ren has work to do on the red planet.
He needs to test rocks and soil to see if there is life on the planet.
Ren flies the ship around the moon.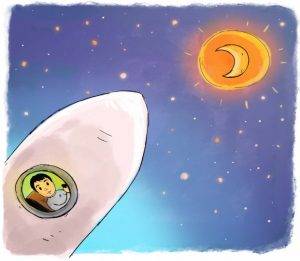 It takes a long time to get to Mars.
He looks at all of the stars and thinks about the planets that orbit them.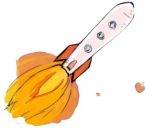 <End of Page 1 of Captain Ren's Trip to Mars>
If you want to read along with Captain Ren's Trip to Mars, check out this video from Storytime Sandi:
To read more about Bookbot, check out the creators post on our blog here: https://freekidsbooks.org/bookbot-born-reading-loud-without-fear/
If you love Space themed books for early grades, we have a few available which you might enjoy:
Tania's back with more adventures in Tania's Martian Encounter.  In Tania's latest adventure, she's heard about the new discovery of water on Mars. It's simply fascinating, and Mama explains to her all about the planets and how important the discovery is. Tania's uncle works for NASA and is coming to visit, so she is expecting …
What does the sun give us apart from warmth and light? How many days are there on Mercury? How many moons does Jupiter have? Is there a possibility of life somewhere else? A simple, fun, and modern introduction to our solar system, including glossary, recommended links, fun facts, and activities at the end. A really …
You can also see more books available from Bookbot on FKB in the Bookbot Category.
Siyavula provides an amazingly comprehensive, beautifully presented set of free maths and science textbooks, based on the South African school syllabus. The maths and science textbooks contain around 500+ pages, and cover all learning content for each year, with worked examples, practice questions, sample papers, linked videos, and many books also provide a separate teacher …
In Sailing Ships and Sinking Spoons – lessons in buoyancy, Tenzin and Tashi, two young Tibetan monks, and Genla, the beloved storyteller of the monastery, wonder why a small steel spoon sinks in water but a huge ship floats. Their science teacher Miss Sonam helps them experiment with an apple, a spoon and a tub-full …
Physics is a little book with lots of big facts about physics. This book covers the basic principles of physics and makes a nice introduction to physics for early grades in science disciplines, and a good lead into school projects by introducing some of the facts of physics. Sample Text from Physics What is Physics? …
An amusing tale that helps us find out where metal comes from. This is another royalty free work from Tony J Moon.

Space Puzzles Book 1 – fun activities for kids from NASA
A space puzzles book for children interested in space. This activity book contains interesting facts about space flight along with activities to match.
The book includes a maths puzzle, unscramble national parks, find words, match parts of the space station, and spot the difference.
If you are looking for early readers, check out our Early Reader category.
---
All our posts are checked by Grammarly, the free online grammar checker (British English used):
This site is hosted by Bluehost:

Leave a comment (it won't be public) if you want help getting your own website cost-effectively.