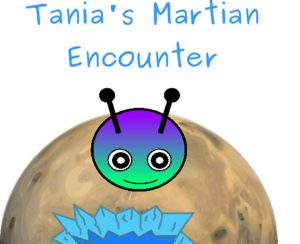 Tania's back with more adventures in Tania's Martian Encounter.  In Tania's latest adventure, she's heard about the new discovery of water on Mars. It's simply fascinating, and Mama explains to her all about the planets and how important the discovery is. Tania's uncle works for NASA and is coming to visit, so she is expecting even more excitement. But her uncle is known as a prankster – will he trick Tania this time or not?
This book provides some great facts about space, told in a simple and entertaining way. A perfect book to inspire future physicists or astronauts.
Sample Text From Tania's Martian Encounter: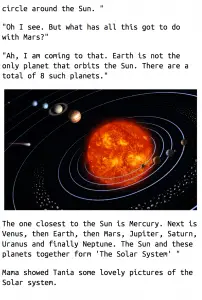 Tania was waiting for her Uncle Karan to arrive. Uncle Karan was a prankster, he had helped Tania play a few practical jokes on her friends, and Tania thought he was super cool. Also, there were some important things she wanted to discus with him.
It all began on the 29th of September 2015, when the planet Mars had quite literally made a Splash in the media. NASA had just announced that, there was evidence of water on Mars. Mama said "You know Tania, your uncle Karan works for NASA. I am sure he will have some interesting things to tell us when he visits in a few months."
About the Tania Series
Kanika G is a physicist and mother of two. She started writing to entertain her first child when she was two. Each book would be read to her daughter, and this would form a critique and improvement cycle for the book. She now has over 30 Tania books and more books for young children and children learning to read.
Tania Series:
Read More about Tania on Free Kids Books here: https://freekidsbooks.org/tag/tania/
For All of Kanika's books on Free Kids Books, and more about the author see here: https://freekidsbooks.org/author/kanika-g/
See more books about Space below
See more books by Kanika G
---
Sponsored Links:
Note – if you sign up through these links, it doesn't cost you any extra, but FKB receives a small donation, which helps us with our project to buy more FREE Hardcopies   for kids who need them

All our posts are checked by Grammarly, the FREE online grammar checker (We still receive a donation even if you only sign up for the free account :-):