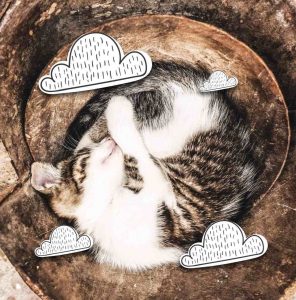 Cats! Provides an early reader about cats for cat lovers everywhere. See all the cats and follow their adventures in simple phrases and words for learning and progressive readers.
Cat lovers will enjoy this beautifully photographed children's picture book.
Cats! is a Bookbot book, Bookbot is an app that helps children learn to read independently by listening and correcting them, without the pressure of an observer.
Sample Text from Cats! – early reader about cats
A cat is out in the garden. It likes the garden. It can feel the wind on its whiskers and paws. It is looking for some fun.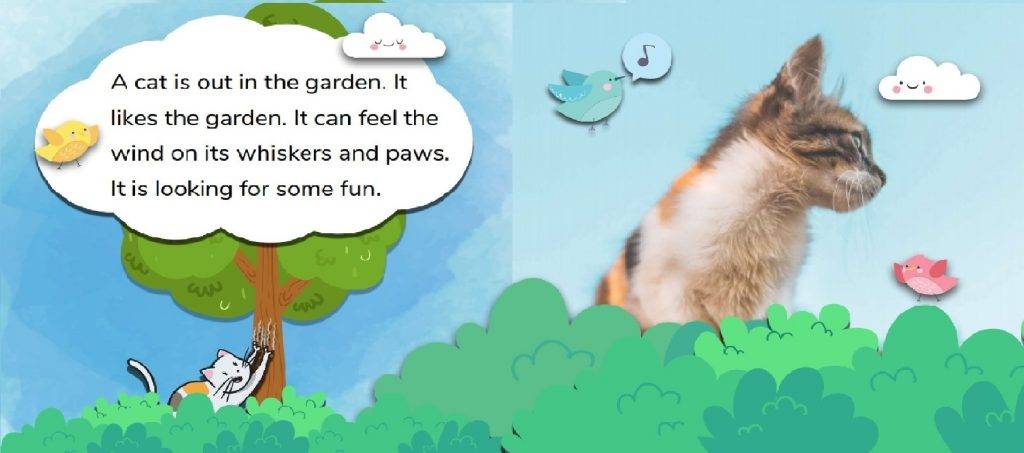 A cat up a tree! It can keep an eye on things from up high. Cats feel safe when they can see what is going on.
<End of Page 2 of 19 from Cats! sample text>
Keep reading the full book, Cats! by selecting read online or download below.
More about Bookbot
This book was brought to us by Bookbot, See more of Bookbot books and find out about the Bookbot app for reading independently at their website.
This book is another great free book brought to us by Bookbot. Bookbot is an app that helps children learn to read independently.
Physics is a little book with lots of big facts about physics. This book covers the basic principles of physics and makes a nice introduction to physics for early grades in science disciplines, and a good lead into school projects by introducing some of the facts of physics. Sample Text from Physics What is Physics? …
Written by Bel Richardson, Illustrated by Mykyta Harets
In Emma's Crazy Day, Emma gets a new scooter for her birthday, this starts off a whole crazy adventure for Emma. This adventure is brought to us by Bookbot, an app that brings independent reading to children. Sample Text from Emma's Crazy Day It is Emma's birthday. Emma gets a present. Emma gets a big, …
Written by Bel Richardson, Illustrated by Mykyta Harets
In Explorer Ella's Magic Forest we go on a magical journey through an enchanted forest all while learning sight words and phonics. Sample Text from Explorer Ella's Magic Forest Ella likes exploring. She really likes reading maps and finding new places. Ella looked at a map. The map showed no forest. But there was a …
Written by Bel Richardson, Illustrated by Mykyta Harets
In Archie Makes a Big Bang, a science theme early reader from bookbot, we follow the fun tale of an inventor and his creative inventions. This is an early reader book, aimed at introducing phonics, sound out words, and high-frequency sight words. This is another great free picture book from Bookbot – the reading app …
Written by Vidya Tiware, Illustrated by Rijuta Ghate
In Flying High, a young boy dreams he is flying high. A beautiful story for small children. The repetitive simple text  also makes this perfect as an early reader, for children learning to read. Another great Creative Commons Book fro Pratham and Story Weaver. Written by Vidya Tiware Illustrated by Rijuta Ghate Translated by Rohini …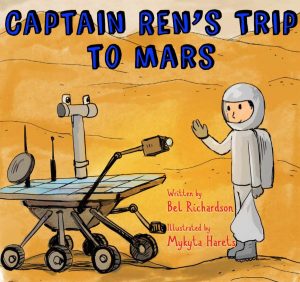 Written by Bel Richardson, Illustrated by Mykyta Harets
Captain Ren is ready for his first adventure into space, he's off to Mars. He has important work to do on Mars. What will he do while he is there? Will he meet anything on Mars? Get ready for lift off! In this fictional space theme early reader..
Race Driver Callum Makes a Car tells us a story of a driver who makes his own car. Bookbot books are designed as early readers to strengthen reading practices. Bookbot is a reading app bot-buddy which means children can have their reading corrected independently, great for busy families and for growing in confidence. Sample Text from …
Written by Bel Richardson, Illustrated by Balarupa
The Fish and Chip Shop is an early reader picture book which describes a trip to get fish and chips for lunch. It's lunch time, and this little boy wants to try the fish and chip shop. What do you need to do when you order food? What will he choose for lunch? Come and …
---
Sponsored Links:
Note – if you sign up through these links, it doesn't cost you any extra, but FKB receives a small donation, which helps us move towards our aim of
FREE Hardcopies!  
All our posts are checked by Grammarly, the FREE online grammar checker (We still receive a donation even if you only sign up for the free account :-):


This site is hosted by Bluehost:

Leave a comment (it won't be public) if you want help getting your own website cost-effectively.