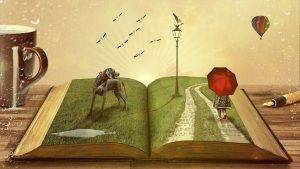 The great thing about public domain stories for children, asides from the fact that the stories are very popular, is that you can create your own versions of the stories free. Whether you change the words to your own, or just add a few illustrations, the work is free for you to modify as desired.
Kids never seem to get tired of the classic children's stories, most of which have a great moral with them, and what better way to enjoy them than customising them for personal use or to share. This is an awesome project for creative parents, and also one you can work on with your children, or something which can provide a good literary study for older children.
(Editor Note – if you do decide to create your own versions of open source or public domain stories for kids, we'd love you to send us the resulting book to share! See details on how to submit a story here: FKB Submissions).
How to Create Your Own Children's Stories: 
Use a word processing (we recommend open office or libre, both are free and very similar to MS Word)
Select text and pictures from an open source or creative commons site such as gutenberg.org or wikimedia, or pixabay.
Arrange the text and pictures as required
Include any acknowledgements required by the source (acknowledge where you obtained the pictures or text)
Export the file as a pdf (either print to file or use export)
Note, you will need to start creating to find out how to do this, it's more of a hands-on learning exercise. If you get stuck – an internet search is usually the best place to find articles rather than trying the internal help.
Here's a link to some of our short stories for kids available on the Classic books page of this website.
Hans Christian Andersen Fairy Tales   and What the Moon Saw
Edith Nesbit's beautiful-stories-from-shakespeare
Rudyard Kipling's Just So Stories and The Jungle Book
I've gone one step further with the Brothers Grimm and Hans Christian Andersen books, to make it as easy as possible, I've posted the open office source file.  This makes it even easier for people to take these stories and create their own versions, since you can modify the file directly rather than having to copy and paste the text which can be rather messy sometimes. The others are under development and I should have them here soon too.
The other great thing about these public domain kids stories are that you can find them in many formats. Librivox provides most of the public domain books in audio format for listening to in the car for example, or for anyone with reading issues such as dyslexia. Project Gutenberg provides a large selection of different file types, such as html, epub or plain text.
I've customised one of our favourite children's stories from The Jungle Book, The White Seal, (my little ones just love seals) it's also available on YouTube as a beautiful animated children's story.
Asides from these classic stories, there are a few newly created books on our main page in public domain, and the same applies.
All the books from Sarbasst Braian are in public Domain, here's a short list of the more popular public domain children's stories on our main website:
Sarbasst's Tales: Sarbasst Braian
The Velveteen Rabbit: https://freekidsbooks.org/books/78/the-velveteen-rabbit
Chuskit Goes to School : https://freekidsbooks.org/books/163/chuskit-goes-to-school 
Forests for People : https://freekidsbooks.org/books/167/forests-for-people
There are many more wonderful children's stories and books we can share with you in our collection, we look forward to hearing from you when you finish your story!
More Free Children's Stories?
Visit us at FreeKidsBooks.org or follow us at Twitter, Facebook, Instagram, and Pinterest.
Happy reading! Danielle
Reading Changes Lives. Free Books = Literacy for Everyone!