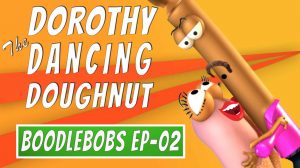 Dorothy is a dancing doughnut, but she keeps hurting people when she dances. What should she do?
This is the second free story in the episodes by popular author Jo Kemp.
The book also has some fun activities at the end.
To watch Dorothy The Dancing Doughnut and read along see the video link.
Select subtitles from the settings icon to read along.
If you click the red subscribe button and then the little bell icon you will be automatically notified of new uploads if you have a google / gmail account.
Channel Subscribe text link:
Other books by Jo Kemp on FKB:
Text and Image from Dorothy the Dancing Doughnut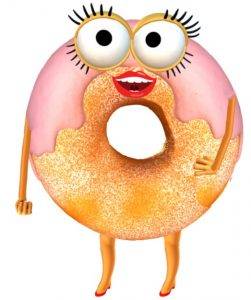 DOROTHY THE DANCING DOUGHNUT Boodlebobs [EP-02] – http://bit.ly/bb-dorothy By Jo Kemp
This is a story all about Dorothy and yes, she's a doughnut.
Dorothy loved dancing. She knew the names of all the dances – the waltz, the tango, the foxtrot. She even knew the monster mash and the jive.
But she was a TERRIBLE dancer. It was because of her shape – and her shoes – and she couldn't change her shape (and she certainly wasn't going to change her shoes).
"OOOOH OOOH… I love to dance!" she sang as she tripped and crashed around.
"I think you should give up dancing," said Ivy, "You're such a TERRIBLE dancer!"
Everyone gasped. Everyone knew that Dorothy was a terrible dancer but it wasn't right to tell her…
…to hurt her feelings like that."Maybe you should have a few lessons just now", said Tina quickly, "You know, polish up your act."
"Ohhhh! That would be wonderful!" beamed Dorothy and did a sort of pirouette.
<Read the full book by selecting the links below the post or watch the video>
ABOUT THE AUTHOR
Jo Kemp is a British author who primarily writes children's fiction. She became known for writing the original series of 'Chorlton and the Wheelies' and 'Jamie and the Magic Torch' for Cosgrove Hall Films.
She went on to write 'Boodle Books' published by Thurman of Mr. Men fame before setting up her own production company which produced the popular children's TV series 'The Raggy Dolls' as well as countless TV commercials and brand films over 25 years.
Jo is a fully edged member of the Writers' Guild and will complete the first in a fantasy trilogy for publication in 2019.
See more Early Reader books below
See more books by Jo Kemp below
---
Sponsored Links:
Note – if you sign up through these links, it doesn't cost you any extra, but FKB receives a small donation, which helps us with our project to buy more FREE Hardcopies   for kids who need them

All our posts are checked by Grammarly, the FREE online grammar checker (We still receive a donation even if you only sign up for the free account :-):